Colour trends sports- and leisurewear winter

by Susanne Galliker
Gerliswilstr. 21, CH-6021 Emmenbruecke
Tel. 0041 / 41 / 260 38 60, Fax 0041 / 41 / 267 92 30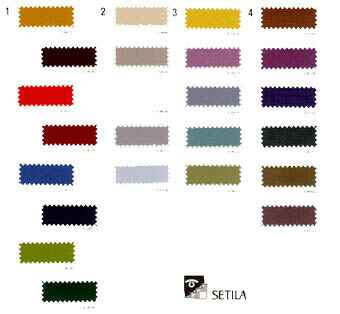 Transformation
Versatile, with a wide variety of possible applications to combine at will. The focus is on four major colour themes:
Bright and dark shades in harmony

White, set among neutrals with the emphasis on frosty and cool.

Mild, flattering mid-tones

Attractive, dusty intermediate shades.
1
Bright nuances and sophisticated dark shades are seen as refined bi-colors or unis. They reflect an authentic sporty interpretation. For use in active sports and casual leisurewear, to some extent with artisan and folklore elements. Double jersey, also reversible, lightweight double cloth and taffeta benefit equally from the colours in this group.
2.
Pure white, set among mainly cold neutrals. These represent modernity and activity. The colours from the other groups provide added effects and accessories. They are particularly suitable for qualities with a sophisticated sheen or matt for toile, subtle, restrained construction looks as well as embossing and iridescent coatings which emphasize the cool and modern aspects.
3.
Mild, flattering mid-tones are grouped to form a soft and sophisticated colour statement. They are combined with the colours in groups 1 and 2. They are used in fine côtelé, gently emerized, cottony diagonals, double jersey, to some extent partially raised. Particular attention should be paid to green shades.
4.
Attractive, dusty intermediate shades for sophisticated looks. They lead an independent life and are at their effective best as unis. The colours in group 2 can be used sparingly for effect. Fabrics are matt, have handle and character and are used for a new, modern, classic look. Toile, double cloth, finest rib structures and gabardine.
If you are interested in the fashion trend work please contact Susanne Galliker at the above address.