New Star Tex, Shanghai



Shanghai New Star Tex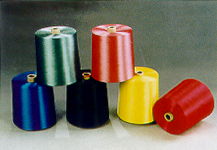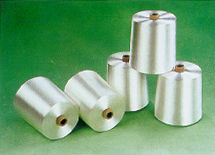 BRIEF INTRODUCTION
Newstartex as the leading exporter of Chinese viscose rayon was founded in 1995,and began its business products activities as an exporter of Chinese viscose filament yarn to global market. During the 10 years, Newstartex gradually expanded its activities as an exporter to include various textile products, established an excellent reputation as a company which fulfilled its commercial commitments domestically and abroad, and which provided an exceptional high level of service to its customers.
Newstartex is a diversified international merchant with principal emphasis on viscose rayon. It has been promoting Chinese viscose filament yarn worldwide since 1995. Today, they are the biggest Chinese exporting trading company of viscose rayon yarn.
They represent the biggest viscose rayon filament yarn producer, Xinxiang Bailu Chemical Fiber Group Co. Ltd, as their sales global partner and sole export agent in Shanghai.
The customer are served with competitive prices, premium quality and exceptional high level after-sales service.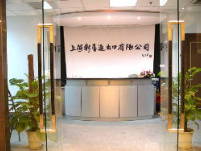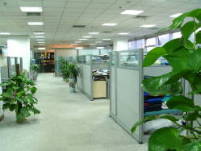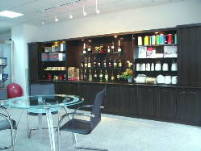 The company is consisted of seven business departments.
Department for exportation of wool and cotton fabrics

Importation and exportation of machinery and electrical products, electronics instrument, garments, and timber logs, electrical tools, accessories to computer engineering vehicles, motor boats and medical instruments.

Exportation of raw materials for textiles and garments.

Importation of wine, alcohol drinks, beverage, and food.

Exporting of silk fabric and garments.

Import and export of chemical materials and products.

Import and export of metallurgical raw materials such as iron ore, steel scrap, coke and coking coal and thermal coal.
The annual turnover of the company in 2003 was over USD 90,000,000.00
New Star Tex is located at the Shanghai Business belt in Pudong new district with an office space of not less than 10,000 sq ft equipped with the advanced Company's intranet system with a working staff of more than 80 personnel. It is the company goal to consolidate the traditional relationship with old correspondents as well as to develop new relationships with new potential correspondents in the world.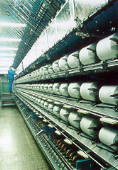 BRIEF INTRODUCTION to the third BUSINESS DEPARTMENT and its business
New Star Tex is a leading exporter of Chinese viscose filament yarn. It has been promoting Chinese viscose filament yarn worldwide since 1995. Till 2003, it exported Chinese viscose rayon filament yarn to the markets of Japan, East and South of Asia, Europe and North America etc.
As from 2002 over 1,000 tons viscose filament yarn per year were sold in the Japanese market - this represents a 30% share of that market.
In 2003 New Star Tex strategically started aiming at promoting Chinese viscose yarn to the Western markets which are new market for Chinese viscose. Based on the successful sole agency marketing co-operation in Japan market, Xinxiang Bailu Chemical Fiber Group Co., Ltd. (biggest Chinese viscose filament yarn maker which annual production capacity of 30,000 tons 'EGRET' brand viscose filament yarn, 30,000 tons viscose staple fiber and 2,000 tons twisted viscose filament yarn with equipment imported from Italy) has authorized the New Star Tex company as sale agent with competitive prices, improved quality and effective services, we believe Chinese viscose yarn will become popular in western yarn market just as in Japan, Korea, and India.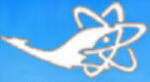 Our products specification are as below:
A. Viscose staple fiber :
We can provide different types of viscose fiber with titer 1.0--5.5 dtex length 20---120mm.We have advanced quality control facilities well sufficed to ensure whole-process manufacture quality control.

Common viscose staple fiber (bright)

High whiteness viscose staple fiber (semi-dull)

Dyed viscose staple fiber

1.33 dtex*38/51 mm

1.33 dtex*38/51 mm

1.33 dtex*38/51 mm

1.67 dtex*38/51 mm

1.67 dtex*38/51 mm

1.67 dtex*38/51 mm

2.22 dtex*38/51 mm

2.22 dtex*38/51 mm

2.22 dtex*38/51 mm

Viscose tow (bright/dull)

Special fiber for non-woven (bright/dull)

Bamboo viscose fiber (bright/dull)

0.8/1.0Den

1.33 dtex*38/51 mm

1.33 dtex*38/51 mm

1.2/1.5 Den

1.67 dtex*38/51 mm

1.67 dtex*38/51 mm

2.0/3.0 Den

2.22 dtex*38/51 mm

2.22 dtex*38/51 mm
B. Viscose filament yarn : detailed list can be found here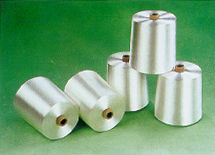 | | | | |
| --- | --- | --- | --- |
| Description | Dtex/Den | Filaments | TPM |
| Bright/Dull centrifugal | 56/50 | 12 | Z 80 |
| Bright/Dull continuous | 56/50 | 12 | 0 |
| Bright/Dull centrifugal | 56/50 | 24 | Z 80 |
| Bright/Dull continuous | 56/50 | 24 | 0 |
| Bright/Dull centrifugal | 84/75 | 24 | Z 80 |
| Bright/Dull continuous | 84/75 | 24 | 0 |
| Bright/Dull centrifugal | 84/75 | 30 | Z 80 |
| Bright/Dull continuous | 84/75 | 30 | 0 |
| Bright/Dull centrifugal | 110/100 | 30 | Z 90 |
| Bright/Dull continuous | 110/100 | 30 | 0 |
| Bright/Dull centrifugal | 110/100 | 38 | Z 90 |
| Bright/Dull continuous | 110/100 | 38 | 0 |
| Bright/Dull centrifugal | 133/120 | 10 | Z 90 |
| Bright/Dull continuous | 133/120 | 10 | 0 |
| Bright/Dull centrifugal | 133/120 | 30 | Z 90 |
| Bright/Dull continuous | 133/120 | 30 | 0 |
| Bright/Dull centrifugal | 133/120 | 44 | Z 90 |
| Bright/Dull continuous | 133/120 | 44 | 0 |
| Bright/Dull centrifugal | 167/150 | 30 | Z 90 |
| Bright/Dull continuous | 167/150 | 30 | 0 |
| Bright/Dull centrifugal | 167 /150 | 44 | Z 90 |
| Bright/Dull continuous | 167/150 | 44 | 0 |
| Bright/Dull centrifugal | 220/200 | 50 | Z 90 |
| Bright/Dull continuous | 220/200 | 50 | 0 |
| Bright/Dull centrifugal | 280/250 | 50 | Z 100 |
| Bright/Dull continuous | 280/250 | 50 | 0 |
| Bright/Dull centrifugal | 330/300 | 60 | Z 100 |
| Bright/Dull continuous | 330/300 | 60 | 0 |
| Bright/Dull centrifugal | 500/450 | 90 | Z 110 |
| Bright/Dull continuous | 500/450 | 90 | Z 110 |
| Bright/Dull centrifugal | 660/600 | 120 | Z 110 |
| Bright/Dull continuous | 660/600 | 120 | Z 110 |
* DOPE DYED COLOR YARN BRIGHT ON CONE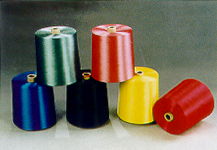 75D/ 14F
100D/ 30F
120D/ 10F
120D/ 30F
120D/ 44F
150D/ 30F
150D/ 44F
250D/ 50F
300D/ 60F
450D/ 90F
500D/100F
600D/120F

* SPECIAL SPECIFICATION (FLAT YARN BRIGHT/DULL ON CAKE/CONE)
120D/10F
150D/40F
250D/20F
300D/10F
300D/30F
450D/30F