Vectran Fiber
A Unique Combination of Properties
For The Most Demanding Applications



Introduction
Vectran is the brand name for a high-performance thermoplastic multifilament yarn spun from Vectra ® liquid crystal polymer (LCP). Vectran is the only commercially available melt spun LCP fiber in the world. Vectran fiber exhibits exceptional strength and rigidity. Pound for pound Vectran fiber is five times stronger than steel and ten times stronger than aluminum.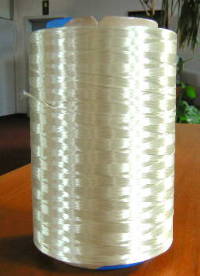 The result of more than 15 years of dedicated research and development by Celanese scientists and the establishment of over 130 LCP-related U.S. patents, Vectran fiber provides engineers with exciting material selection options. This new fiber is available as Vectran HS, a high-strength reinforcement fiber and Vectran M, a high-performance matrix fiber.
Where Existing Materials Fail to Perform
A unique combination of properties differentiates liquid crystal polymer fiber from other high-performance fibers and makes it the material of choice in demanding applications where other fibers fail to meet performance requirements. The remarkable range of mechanical properties exhibited by Vectran fibers and their unique combination of properties permits them to be used for a variety of purposes.
---
Properties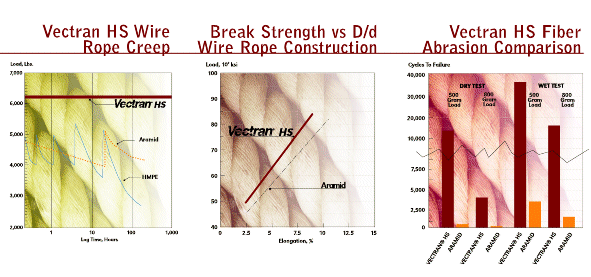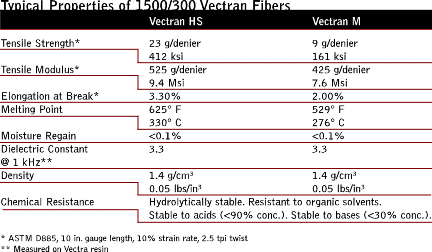 ---
Applications

Ropes and cables
Vectran HS is solving performance problems in critical marine, military, and industrial rope and cable applications. High strength with no creep allows manufacture of high performance ropes that are stable to extended loads. Superior abrasion resistance, excellent moisture resistance, and exceptional property retention over broad ranges of temperature and chemical environments, provide solutions to industrial wear and degradation problems experienced with existing fiber products. Vectran HS is an outstanding candidate for replacement of steel and stainless steel constructions. Archers have benefited from bow strings made with Vectran fiber. Offering archers increased arrow speed with no measurable creep, Vectran fiber has solved problems associated with string relaxation.

Specialized Electronic Uses Require a Unique Fiber
Vectra ® LCP polymer is used world-wide in precision molded electronic products. The same LCP in Vectran HS fiber form is an excellent candidate for printed circuit boards, fiber optic strength members, and conductor reinforcements. High dielectric strength coupled with elevated temperature resistance and outstanding moisture resistance provide new levels of electrical efficiency in prevention of current leakage. This combination along with excellent dimensional stability and low CTE provide a unique fiber for specialized electronic uses

Recreation and Leisure
Vectran fibers are an excellent option for recreation and leisure products such as sailcloth, reinforced hulls, fishing poles and lines, golf clubs, bicycle forks, skis, tennis racquets, snowboards, and paragliders. Performance is critical in many specialty sporting goods applications. Of particular importance are the unique vibration damping characteristics of Vectran fiber combined with high strength, minimal moisture absorption and excellent flex/fold/abrasion/impact resistance

Aerospace and Military
The first use of Vectran fiber was for demanding and specialized military applications. The unique properties of this high performance fiber satisfies many of the military and aerospace needs of today. In fact in July 1997 the airbags above, made with Vectran fibers were deployed to cushion the Pathfinders successful landing on the surface of Mars. A stellar-strength fiber, Vectran is lightweight and stable providing superior load handling characteristics for tow ropes, cargo tie-downs and inflatables

New textiles and composites
The Vectran fiber family is available in a range of deniers for textile and composite processing and offers new options in design and material selection. Vectran HS fiber offers benefits for applications requiring high strength, vibration damping, low moisture absorption, and low CTE. Vectran M fiber is a high modulus thermoplastic matrix fiber for applications requiring high impermeability, excellent property retention over a broad temperature range, and low moisture absorption.

Industrial applications
Vectran Fiber brings unique solutions to industrial applications. Stability to most chemicals allows the manufacture of chemically resistant packings and gaskets. Users of protective apparel such as gloves and workwear benefit from excellent cut and stab resistance, elevated temperature resistance, outstanding flex/fold resistance, and durability to multiple wash/dry cycles even in the presence of bleach.

For example, the meat processing industry suffers from some of the highest incidents of hand cuts and abdominal stabs. Worker safety is improved when garments provide increased cut resistance or stab resistance. Because of the high cost of safety apparel and the high costs of injuries, meat processing companies are sensitive to cost/performance of safety workwear. Aramid fibers have poor resistance to bleach and UHMWPE fibers are sensitive to high temperatures associated with drying. Therefore, the cost/performance of safety wear improves when garments can resist exposure to bleach and are durable enough to resist multiple wash/dry cycles without loss of strength or shape due to shrinkage. Vectran fiber workwear is meeting the cost/performance needs of this industry

Grades

high tenacity
monofilament
fibers
spun yarns


Cut fiber and pulp are also available

Novelty: Vectran LCP monofilament, dtex 33 f 1

Material:

Vectran liquid crystal polmer

Type:

monofilament (split type)

Count/Filam.:

dtex 33 f 1 (0.055 mm)

<![if !vml]> <![endif]>

Colour:

natural Vectran color

Tenacity: cN/tex

195.0

Elongation: in %

3.0

Put up type:

n.ret. cylinders

Length: in mm

230

Inner Æ: in mm

56

Put up wt: kgs

abt. 1 kg

Remarks:

This split monofilament cannot be used in filtration and not in medical end uses.

Processability

Background information


To view the .pdf files above, you will need to download Adobe Acrobat Reader.

(Click logo below to download the free Adobe Acrobat Reader.)

Our supplier partner

Kuraray America Inc