We do believe this great invention will play an important role not only in the textile area but also in various industries as a new functional material due to its unlimited application possibilities.

The new generation luminous pigment added yarn will ensure longer and higher luminosity ever. Also our yarn covers various range of deniers enabling to apply in any usages from shoe strings up to the industrial ropes.

We do hope that this new invention will make your business with us to grow like the glow in the dark.
Counts: dtex 167 f 18, dtex 220 f 24 and dtex 660 f 72 - minimum order 1 carton = abt. 18 kgs

Color and Specification
Basic color is

rawwhite and it has a yellowish/green luminous glow.

Colored glow yarn can be produced upon demand of a customer. Counts: dtex 167 f 18 and dtex 220 f 24 only.

MOQ: 100 kg per color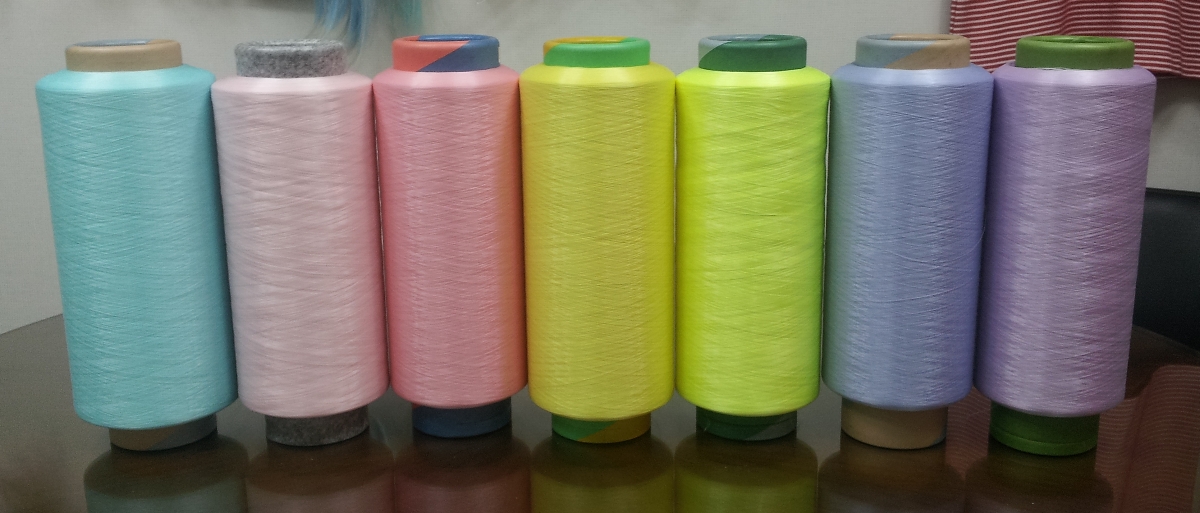 ---
Polyester embroidery yarn
150 Deniers x 2 ply in most of pastel colors


Color Specification
pink and peach have a white glow effect

rawwhite and dark yellow have a light yellow effect

mint (=light Green) has a shock green effect

light brown has a light green effect

light yellow has a shock light yellow effect

purple has a light blue effect

blue has a mix light blue/light green effect

---
Available from
8.25 denier x 38 mm, 78 mm, 100 mm and 120 mm


Minimum order 1 bale = abt. 100 kgs
---
Glow polyester with acrylic, wool and others.
Available from
ECC 36/1 up to ECC 5/1


minimum order 2.0 tons as there are never any stocks – all on customers demand only
---
Luminous glow lasts about an hour and then continuing after glow for another hour

Longest glow ever in the world!!
Highest luminosity !!
Suitable for outdoor life!!
Unlimited range of applications
This is composed textured yarn of melt down Emission type.
Mixed & melt down with Polyester based chip and glow in the dark pigments.

Our yarn & its products have a special characteristics of accumulate the glow under the sunlight or in the room light for a few minutes. and then it becomes luminous in the dark for a long time by itself and it releases the stored light.
For inquiry please use our form here giving all requested information
Applications

a) Embroidery Yarn :
Caps, Hats, Mitten, Logo, Toys.

b) Filament Yarn :
Jacquard, Toy Fabric, Strip knit, Socks, Lingerie, Stuff Toys,
Ropes, Strings, Webbing, Cloth, Caps, Hats, Gloves.

c) Polyester Fiber:
High Pile, Jacquard Boa, Dumbling.

d) Spun Yarn:
Carpet, Curtain, Seat Cover, Neck Tie, Sweater.

e) Hand Knit Yarn:
Sweater, Vest, Neck cloth, Caps, Hats.
---
Glow effect charging time and durability
Product

Absorbing (Exposure) time

Emitting time

Remarks

Yarn

sunlight for
3 minutes

for 3 hours

luminous light for 10 minutes

Fabric

sunlight for
3 minutes

From 1 hours
till 3 hours

In case that you knit the fabric by using our Glow yarn 30-35%.

If you knit dtex 133 or 200 then emitting time is abt. 1,5 hours

If you knit dtex 220 and 440 then emitting time is still up to 3 hours

luminous light for 10 minutes
---
Anti bacteria test

Brightness test

Deodorization test

Far infrared test

MSDS

Material safety data sheet
---
Glow yarn may use needles and yarn guides more quickly. Please make sure that the needles and yarn guides are in a perfect state and that they are replaced more frequently. Life time of needles and yarn guides depend on the their quality. Thanks for bearing this in mind when working with glow yarn.