Ladies outerwear winter

by Susanne Galliker, Gerliswilstr. 21, CH-6021 Emmenbruecke
Tel. 0041 / 41 / 260 38 60, Fax 0041 / 41 / 267 92 30
COLOURS/LOOKS/TEXTURES/DESIGNS
- Need for greater individuality
- Sophisticated colour concept
- Matt, glazed or natural sheen w. glittering effects
- Natural looks and back to basics
- Innovative surfaces
- Lightweights with handle
The desire and demand for greater individuality will accompany us in this millennium, ending the uniformity which influenced past seasons. New elements will be found in sophisticated details such as subtle yarn effects, constructions and designs or are revealed in the shape of subtle accessories. These also include a desire for increased femininity and decoration, avoiding anything obvious and obtrusive.
A versatile and sophisticated colour concept is sub- ordinate to qualities. The focus is on soft, blurry-looking, foggy, intermediate shades such as versions of grey and blue. Lively, slightly broken shades, sophisticated dark tones and light, cool, almost transparent tinted faux-blancs.
To meet the need for greater naturalness, fabrics are matt or have a glaze through to a natural sheen. To provide a luxurious look and for effects yarns, the focus is on a sheen that is silky and mother-of-pearl, iridescent + restrained metallic and cool with the look of titanium.
Natural looks and fabrics with a basic look have an important role, e.g. in PONTELLA and PONTELLA MICRO. They are influenced by work wear and leisure time sports such as angling or hiking. This includes everything comfortable, cozy and warming, flannel, attractive polar fleece, reversible composite knit fabrics which underpin the trend toward voluminous lightweight fabrics.
The season's fashion statement is innovative surfaces. They are never boring or dull, but are lively, structured and imaginative, even if only at second glance. Help is provided by effect yarns – such as mouliné, chiné and bouclé, the interplay of different yarn strengths, sophisticated constructions, e.g. double cloth and finishes. Innovative surfaces = SETILA WEAR.
Qualities remain lightweight even for optically voluminous, puffy or looks with a heavier appearance. Silky qualities, such as SETILA and SETILA MICRO have more handle with a somewhat heavier drape. Finishes that support a warming, comfortable, cozy feel such as raising, emerizing, felting, washing, which give the fabrics more volume and take into account the need for naturalness.
DESIGN INSPIRATIONS FOR WEAVING, KNITWEAR, PRINTS, FINISHES AND COATINGS
The design inspirations are varied and versatile. Individuality and imagination play a major role. Clever print backgrounds with sophistication, e.g. with cool metallic, mother- of-pearl, fringe or ribbon effect give the designs a third dimension. Modern print backgrounds are: chiné and mouliné, Jacquard, matelassé, découpé, but also artisan-style looks such as irregular wrinkle effects, chiffon, tulle, lace variations, embroidery, flannel, loden and non-woven. Up-to-the minute looks include partial prints, borders, composés and patchwork for use in all areas.
Femininely ethereal
Everything with a delicate touch, misty, blurred, smeared through to cotton-woolly, fluffy and powdery. Bright cloud impressions, hints of flowers from mini to huge, also smeared and dissolved, romantic mini flower bouquets, toile de Jouy.
Luxurious and artistic
Sophisticated and elegant, never overdone. Jacquard, frequently as piece-dyed or bicolor, generous flower motifs and tendrils, arabesques, powerful over dimensioned taffeta checks and lozenge shapes.
Magical, mystical, spiritual
As if from another world, metropolis, surrealism, trompe l'œil, galaxies, planets, stars, cool and icy, virtual effects, kaleidoscope. Anatomical influences viewed under a microscope; blood corpuscles, saliva, particles of skin, muscle and vein bundles, for current prints and structures.
Natural, archaic, primitive
Natural impulses, irregularly structured designs, speckled like birds' eggs, wood grain, bark, lichen, moss, leaves, roots, effects of corrosion, crinkle, wrinkle and crease ideas, bird's-eye view of landscapes.
Ethnic, multicultural
Nordic and African influences set the tone, mingled, modified and alienated in their colorfulness. Cross-stitch and naive cut-out motifs, simple patchworks, borders, ribbon motifs, ornaments, positioned motifs influenced by Moroccan and Swedish blanket and carpets, traditional, graphic, linear, geometric motifs and figurative, from Lapland, Mongolia and Africa, all combined into unusual designs.
Traditional, matter-of-course
The designs, dots, wealth of checks, small of huge, from shirt, block checks through to lumberjack checks smeared and dissolved. Interrupted versions of stripes, positive/negative effects, three-dimensional micro designs, faux-unis, mouliné and chiné looks, subtle iridescent looks.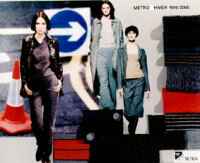 METRO
Urban, practical, everyday wear
Colours: Light and dark neutrals with the emphasis on cool grey and blue variations, marble, silver, asphalt, crystal, ice-blue, ink, warm shades, beige and powder. Mainly monochrome with carefully-measured effect colours, brass, copper
Fabrics: Matt or glazed, light and supple, felt and loden variations, also with transparent coatings and embroidered, flannel with mini designs, jersey partially raised, double-faced cloth, washed poplin, twill, serge, Shetland.
Designs: Many faux-unis, mouliné, melangé and vigoureux effects, pepper-and-salt, pointillé and tweed effects, speckled like birds' eggs three dimensional micro designs, positive/negative effects, interrupted and dissolved stripes, tie designs dots, linear designs.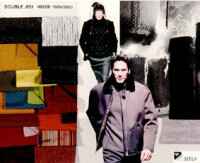 DOUBLE JEU
Protective, sporty and technical, naturally rustic.
Colours: Pure white, surrounded mainly by cold, neutral, alabaster, frost, putty, sophisticated intermediate shades, cassis, storm, cactus, camouflage, ashes, sepia and lively colours, gold, regimental colours, uniform, chlorophyll. For reversible, outer and inner sides in different colours, light/dark and tone-in-tone. Note versions of green.
Fabrics: Matt and the glaze of titanium. Protection from cold and damp, a lot of napped, fulled, matt coatings, toile, taffeta, restrained iridescent, felt and loden looks, also partially raised and printed, double fabric, matelassé, composite knit fabrics, reversible looks, finely laminated fabrics, e.g. iridescent taffeta, bicolor coated/polar fleece. Gently aged and washed fabrics, subtly crushed and woolly crushed looks, sporty velvet, cord. Oxidized, cool, metallic coatings, restrained embossing, embroidery.
Designs: Nature provides the impulses for irregular structures, speckled like birds' eggs, wood grain, bark, lichen, moss, roots, effects of corrosion, crinkle, wrinkle and crease looks, block and lumberjack checks, ethnic designs, Nordic and African inspirations, mingled, modified and alienated, naive cut-outs, simple patchwork, cool, icy and virtual effects. Influences from anatomy, e.g. for embossing.

| | |
| --- | --- |
| | BIEN DANS SA PEAU |
Comfortable, cozy, supple, artisan-like
Colours: Mid-range, soft, foggy colours, beige, powder, maquillage, ice-blue, duck, moss, silver and powerful such as brass, copper, ruby, lapis lazuli, fern. The focus is on feminine make-up shades and warm autumn foliage versions.
Fabrics: Glaze and silky sheen. Crêpe and crêpe-satin with heavier drape and less dry, matt satin, piece-dyed Jacquard, natté, airily pierced through knit and weave looks, clinging double jersey, subtly bicolor fleece, mossy and bouclé looks, matelassé with volume, often crushed and napped, woolly lace and embroidery.
Designs: Dissolved, blurred looks, small shirt ad generous blanket plaids, indistinct versions of checks, woolly, fluffy, powdery faux-unis, cloud impressions, romantic mini flower bouquets as Jacquard or print, hints of flowers and blossoms smeared and in small repeats, toile de Jouy, naive cut-out, leaf and cross-stitch motifs, simple patchworks.

| | |
| --- | --- |
| | CLAIR DE LUNE |
Unreal, mystical, cosmic.
Colours: Light, almost transparent faux-blancs, pearl, marble, oyster, crystal or dark, sophisticated, morbid shades, asphalt, garnet, ink, myrtle and luxurious such as lapis lazuli, peacock, ruby, copper, brass. Low-contrast harmonies. Pearl, iridescent and matt, cool, metallic sheen for effects and coatings.
Fabrics: Taffeta, also with restrained iridescence, flowing satin and duchesse, chiffon, tulle, net looks, moiré, weft rep, double crêpe not too dry, also with construction effects and mini pierced-through effects, large repeats in Jacquards and piece-dyed matelassé, cloqué, lace, embroidery, also positioned.
Designs: As if from another world, metropolis, surrealism, trompe l'œil, kaleidoscope, galaxies, planets, stars, generous flower motifs and tendrils, over-dimensioned taffeta checks and lozenges, toile de Jouy.
If you are interested in the fashion trend work please contact Susanne Galliker on the above address.