Sophista® from Kuraray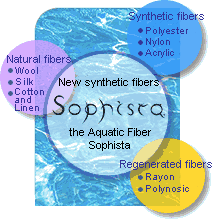 Sophista is a breakthrough material developed by Kuraray, the largest manufacturer of EVAL (EVOH) resin in the world. This is the first synthetic fiber that combines the comfort and feel of natural fiber with the function of synthetic fiber.

This aqua-friendly fiber with hydrophilic radical is perfectly compatible with human body.
Sophista is a leading edge product of fiber technologies in the 21st century.
Affinity for water is the original concept of Sophista's characteristic. Sophista is aqua-friendly fiber holding hydrophilic radical.
| | |
| --- | --- |
| Fibers can be categorized into two groups; hydrophilic and hydrophobic fiber. Hydrophilic fibers have hydrophilic radical (-OH radical), which molecular structure is characterized by high affinity for water. Cotton and rayon are typical examples of this fiber group. | Hydrophilic fiber (cotton and rayon) |
| In contrast with hydrophilic fiber, most synthetic fiber such as polyester and polypropylene are typical hydrophobic fibers. Having no hydrophilic radical in the molecule, these conventional synthetic fibers have no affinity for water and cannot absorb nor diffuse water. | Hydrophobic fiber (polyester) |
Sophista is the first synthetic fiber with hydrophilic radical (-OH) thus enabling to absorb and diffuse water. It has realized a real comfortable and gentle touch to human skin which has never been available with synthetic fiber.


Sophista, just simply comfort to your body
Sophista Smooth and comfortable

With hydrophilic radical in the fiber, sweat and water are absorbed on fiber surface where they quickly evaporate.

Sophista does not swell nor stick to the skin as in the case with natural fiber when they are wet. Sophista maintains both fiber and skin surface dry.


 

Cotton Soggy and sticky

The fibers quickly absorb sweat and water but swell with water to become bigger.
The saturated fiber with water will become soggy and sticky to the skin. It not only makes wearer uncomfortable, but it also takes time to be dried.

Polyester  Soggy

The lack of hydrophilic radical in the fiber does not allow absorption of the sweat and water.

Though fiber does not swell, it hold sweat on fiber surface changing into uncomfortable and soggy liquid layer between skin and fiber.
Sophista is cool and fresh
Sophista can absorb and diffuse not only sweat but also the body heat by evaporation of water. With this wicking effect, Sophista makes you feel cool and dry.
The index of cool feeling Qmax

Sophista can absorb and diffuse not only sweat but also the body heat by evaporation of water. With this wicking effect, Sophista makes you feel cool and dry.

To simulate how the body heat is transferred when wearing clothes, the
heat transfer was measured by time letting a heat stock plate be contacted
with the fabric. The heat transfer can reach maximum within 0.1 second followed by sharp decrease.
The maximum drop value is indicated as Qmax index.

The higher the index is, we feel cooler.
The smaller the index is, we feel warmer.
Sophista show amazing wicking performance by the quick absorption and evaporation of sweat
Sophista absorbs sweat on the fiber surface and evaporates quickly. Sophista has better quick-dry performance than normal polyester considered as a good quick-dry performance fiber. A test has been done pouring 10g/m2 volume of water on a garment made of Sophista and normal polyester as comparison.
The polyester garment took 45 minutes to dry completely whereas Sophista took only 30 minutes.


Kuraray method
Sophista prevents sharp drop down of a body temperature
Sophista helps your body to maintain normal temperature while at work or on exercise. A garment made of Sophista can keep your body cooler than any other synthetic or natural fibers including even silk when you doing some light work.

Sophista can maintain your body temperature at comfortable level by evaporation heat caused by quick absorption and diffusion of water.
It also prevents a quick drop of body temperature which occurs mostly after you stopped working or exercising because of wearing soggy garment.


Kuraray method
Sophista is elegant - light as a feather with luster of pearl
Sophista has gained significant lightness in weight to make wearing more comfortable. Sophista is so light with the specific gravity of only 1.25 that you will feel as if you are wearing nothing else than your skin. Multi-purpose application for formal and casual clothing, an ideal garment for traveling because of its lightness, less bulkiness and wrinkle-free. It makes wearing comfortable releasing your body heat.
An elegant luster with vivid color
Vivid color and a beautiful luster are just two of Sophista's key features. Dyed fabrics made of Sophista are vibrant because its saturation exceeds its brightness.
Sophista is made from EVAL, which has a low refractive index, minimizing reflection and making colors look full and rich.
Furthermore, EVAL is highly transparent and contains no substances that scatter or diffuse light, giving it a beautiful fluid sheen.
Smooth and natural drape
Sophista's light and smooth texture allows it to drape beautifully, providing gentle but firm support to respond with your move. Sophista makes you relaxed and refreshed.
Gentle and tough. Useful easy care
Stain can be washed off easily from the fiber

In the daily life, clothes can easily be stained with various kind of substances. Sophista can make the laundry easier because stain can be washed off easily while maintaining the durability against repeated wash cycles. Unlike natural fiber like wool or silk, you can wash the garment made of Sophista at home saving the time and expense to go to professional laundries. Cost performance is another advantage of the comfort fabric that looks always neat.
White remains as pure white while colors remain vivid.
You should have experienced that repeated washing make most fabrics look dull and faded.

Fortunately, this is not the case with Sophista. Sophista has much longer life of wearing than other fabrics. A fabric made of Sophista can hold its original whiteness or color while other fabrics look dull or faded by washing.

Kuraray method (Japan Synthetic Textile Inspection Institute Foundation based on JIS)
Sophista, a leading fiber in the 21st century. How is it produced? What is the structure?
How Sophista could be produced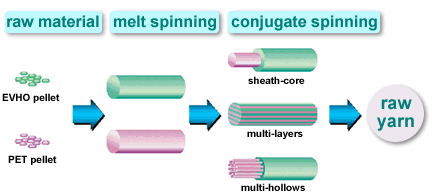 Sheath-core type (todays version)

This yarn has two parts, a polyester core and an EVAL sheath. It is strong and easy to care like conventional synthetic fibers as well as having comfort comparable to the best natural fibers.
New type products can be easily developed.
Prospected variation on Sophista
Easiness of chemical bonding with a wide range of finishing agent, the characteristic of EVAL, will make it possible to develop the value added properties to give extra
performances.

Sophista can make our life healthy, safe and comfortable with additional performance applied on it, like deodorizing, antibacterial, moisturizing, waterproofing, anti-flammable or any specific properties required.
Please expect future "Sophista"