UAB Dirbtinis Pluoštas


Acetate filament yarns from UAB Dirbtinis Pluoštas
Manufacture of acetate yarn in Lithuania was started more than 40 years ago. UAB Dirbtinis Pluoštas continues and develops Lithuanian acetate yarn manufacture traditions. Trademark dp is well known in European and global markets.
UAB Dirbtinis Pluoštas is a full member to The International Rayon and Synthetic Fibres Committee (CIRFS).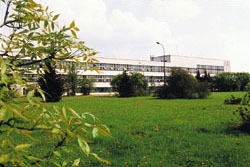 Today UAB Dirbtinis Pluoštas means world-wide recognized high quality of acetate yarns, a team of professionals, advanced technical solutions, knowledge, experience and ability to meet customer requirements.
The capacity of UAB Dirbtinis Pluoštas is more than 8000 tons per year. Advanced technical solutions, sustained knowledge and experience gained from the very beginning of acetate yarn manufacture in Lithuania (some of their specialists have been working with acetate yarns from 1965), well-trained staff and managerial skills enable them to fulfill the most demanding orders from the customers. UAB Dirbtinis Pluoštas is an innovative company ready to take advantage of opportunities opened by EU membership and meet new challenges by overcoming ever growing competition.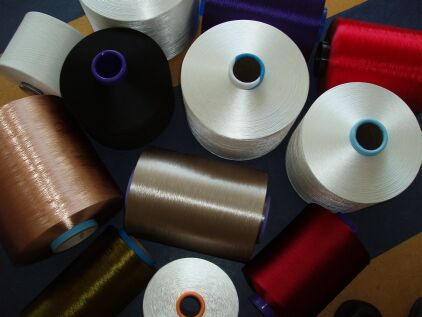 High Quality at all points
Wide range of products, keeping in step with fashion: various linear density in accordance with customer requests, various twist, different size of bobbins, blending with other types of yarns.

Flexible production, prompt order fulfilment.

Highly qualified team of experts, always ready to answer any question related to our products.

High quality service, close relationship with our customers, immediate response to customer needs.

Convenient logistics, prompt and exact order delivery.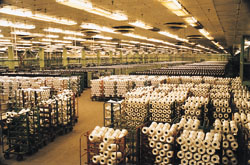 Products
Our product range consists of various acetate and blended yarns. Acetate yarn is a man-made fibre of natural origin, manufactured from acetyl cellulose - a chemical product derived from wood pulp.
Acetate yarns are characterized by smooth performance in basic textile equipment, are easily compatible with other fibres. These characteristics contribute to wide possibilities of acetate yarn application in weaving, knitting, haberdashery (fashion textile) or special textile (medical band, etc.) sectors.
Notably thanks to the natural origin of acetate yarns, modern woven and knitted fabrics are breathable, hypoallergenic, distinguished by lightness, natural lustre, soft drape, antistatic properties and softness to skin as natural silk.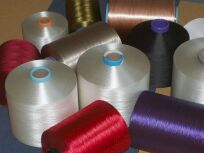 Quality
Perfect quality of acetate yarns is ensured by careful control of raw materials and auxiliary materials, as well as complete control of every step of manufacturing process until the final product itself.
Acetate yarns are granted Oeko Tex Standard 100 certificate, which proves that they are free from harmful substances to people or environment.
Range of products
Products manufactured by
UAB Dirbtinis Pluoštas
comprise an ever so wide range of acetate and mixed filament yarn. Customers across many countries worldwide have already had a chance to verify the high quality of these products. Acetate yarn has been
Oeko Tex Standard 100
certified which confirms that the manufactured products are not harmful to humans and the environment.
Acetate yarn is characteristic of smooth performance in basic textile equipment; it is easily compatible and can be used with other fibres. This endows acetate yarn with many options for application and use. Products made from acetate yarn have the properties of a good drape, holding shape, low wear and a pleasant grip; they are breathable.
To ensure the quality of yarn that meets customer needs, the control of raw materials and other production materials to be procured as well as of processes and ready-made product is undertaken at in-house laboratories equipped with modern devices.
The yarn manufactured by UAB Dirbtinis Pluoštas gets compact spun by intermingling yarn filaments using compressed air before they are wound onto reels. The intensity of intermingling is expressed in the number of knots per one meter length of yarn and differs depending on the intended use of the yarn. The purpose of this process is to endow the yarn and the products made from it with the required compact and special properties.
44-330 dtex intermingled yarn manufactured by UAB Dirbtinis Pluoštas.
100% acetate high shine, matt and dyed intermingled yarn – 20, 30, 40 knots/m;
100% acetate high shine, matt and dyed intermingled yarn for weft – 10 knots/m;
Acetate polyamide intermingled yarn ACEMIX ® – 40 knots/m;
Acetate polyester intermingled yarn DACPEMIX ® – 40 knots/m;
Special acetate intermingled yarn MIKACET ® with antimicrobial properties – 10 or 30 knots/m.
UAB Dirbtinis Pluoštas is ready to meet the most demanding customer needs and can offer a wide range of products:
Bright and dull acetate filament yarn, linear density from 61 dtex to 330 dtex, air-intermingled and twisted from 80 tpm to 2200 tpm in bobbins from 1.5 kg to 6.0 kg on various types and length of tubes.

Dope dyed acetate filament yarn. Black and wide range of colours.

Various blended yarn:
- Acetate polyamide yarn ACEMIX ®
- Acetate polyester yarn DACPEMIX®
- Special acetate yarn MIKACET® with
antimicrobial additives
Yarn spun by UAB Dirbtinis Pluoštas may be twisted or plied. The purpose of the twisting process is to endow the yarn with compact properties and the products made from such yarn, with special characteristics. The structure rendered to the yarn during the twisting process reduces yarn and filament breaking in a variety of textile processes and aids the processing thereof. Products made from twisted yarn are more rigid. The intensity of yarn twisting is described using the twist indicator, i.e. an average number of twists per one metre of yarn.
44-330 dtex left (S) or right (Z) twist yarn manufactured by
UAB Dirbtinis Pluoštas
:
100% acetate high shine, matt and dyed yarn, low twist – 80-250 tpm;
100% acetate high shine, matt and dyed yarn, high twist – 300-1500 tpm;
Acetate polyamide yarn (high shine and matt) ACEMIX ®, low twist – 95-136 tpm;
Acetate polyamide yarn (high shine and matt) ACEMIX ®, high twist – 800-1500 tpm;
Acetate polyester yarn (high shine and matt) DACPEMIX ®, low twist – 95-136 tpm;
Acetate polyester yarn (high shine and matt) DACPEMIX ®, high twist – 800-1500 tpm;