Shine up (Claretta SP-99) from Kuraray



Dual performance of photo-catalytic reaction and chemical neutralization.
In general, deodorizing can be carried out by several ways; such as chemical reaction with odor particle, physical absorption, sensuous masking or biological method (anti-bacterial agent to kill germs to prevent odor generation.)

SHINE-UP has been jointly developed by Kuraray Co. Ltd. and Takeda Chemical Co., Ltd. It hires the chemical neutralizing reaction and photo-catalytic reaction activated by special ceramics containing metal.
Light can clean air by photo catalysis.
| | |
| --- | --- |
| | The deodorizing system of SHINE-UP consists of 2 stages; absorption of odorant particle into the ceramic in the fiber, followed with photo-catalytic reaction leads to decomposition of odorant molecule into CO2 and H2O by the oxidant generated by the light radiation. |
Can it work under fluorescent lamp?
The photo-catalytic reaction is carried out by the radiation of UV below 400 nm wavelength normally found both in sunlight and in-door light source. Thus fairly weak light source of fluorescent lamp can develop the deodorization reactions.

Life full of odor

We are surrounded by various unpleasant odors such as sweat, cigarette, pet smell and also the aged person smell. What brings those smells? You smell the ammonia in a toilet room, which is generated by decomposition of urea by bacteria. The body odor is caused by the decomposition of sebum by epidermal bacteria such as staphylococcus. (Sweat itself is not odorant at all.)

●Typical bad odorants
| | |
| --- | --- |
| Cigarette fume; | ammonia, acetaldehyde, |
| Sweat; | acetic acid, |
| Body odor; | iso-valeric acid, acetaldehyde, nonenal (newly found in aged person smell) |
| Pet odor; ammonia | iso-valeric acid |
| Rotten food; | hydrogen sulfide, dimethyl sulfide |
| Smell of a toilet; | ammonia, methyl-mercaptan, dimethyl sulfide |
Shine-Up, new odor buster in our daily life.
The odor we smell daily is chemical compound of different materials. In case of cigarette fume, it has more than 3000 chemicals. It has been difficult to deodorize with conventional deodorizing fiber because they have narrow allowance of function.

SHINE-UP solves the problems by widening the range of chemicals to be eliminated by the dual deodorizing process of absorption and by the photo catalytic decomposition.


 




 

SHINE-UP can absorb and decompose the smell by dual deodorizing mechanism: chemical neutralization reactions and photo-catalytic reactions.
Both acid and alkaline component of odors are chemically neutralized to be odorless. The neutral component of bad-smell is most hard to be deodorized. But SHINE-UP is effective against the neutral component as well by photo-catalytic reactions.
Confidence in deodorizing various smell quickly.
<Deodorizing and discharging of odorant>
Evaluation method of deodorizing (Tedlar-bag method):
3g of specimen fabric and 3L of the odorant gas are put in 3L Tedlar-bag. After the predetermined retention time (2 hours and 24 hours), the concentration of odorant gaseous particles is measured.

Evaluation method of discharging of odorant (Kuraray method):
The specimen tested in above Tedlar-bag method and fresh air is put in the 3L Tedlar-bag. The bag is heated at 40℃ for 1 hour to discharge the odorant particles from the specimen. The concentration of discharged gaseous particles is measured.
The light energy deodorizes neutral component
| | |
| --- | --- |
| | The chart indicates the comparison of deodorizing effect against acetaldehyde, a neutral component, in different conditions; under irradiated light and without light. SHINE-UP demonstrates enough deodorizing ability under the light of only 30W bulb. Even such a small light energy develops photo-catalytic reactions effective to eliminate odor. |
All data is measured by K-1 method of Japan Synthetic Textile Inspection Institute Foundation

In case of conventional deodorizing materials such as activated charcoal typically used for refrigerator, they can be saturated with absorbed odorant particle and lose the absorbing ability after the saturation.
But in case of SHINE-UP, it can decompose bad odors without such saturation and keeps the deodorizing performance permanently, as far as the light reaches to the fiber.
Repeat deodorizing ability against ammonia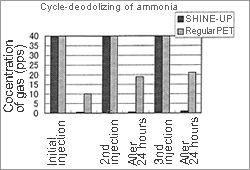 K-1 method of Japan Synthetic Textile Inspection Institute Foundation

1g of sample and 3L ammonia gas in fixed concentration are entered to 3L Tedlar-bag. After the fixed retention time (24 hours), the concentration of remained gas is measured. Then, the fixed volume of ammonia is added to the bag, after this, the same operation is repeated. The higher is the number of repeat times, the more clearly deodorizing ability of SHIE-UP is excellent.

As for deodorizing by topical treatments on fiber, they have several drawbacks, such as tendency to lose the effect after washing and to become hard in touch and availability with limited colors.

SHINE-UP is produced by compounding deodorant ceramics in the polymer through melt-spinning process. The sheath-core type yarn is available as DTY.


It is washable

Because of being compounded in extrusion process, SHINE-UP has higher durability to maintain the performance after repeated washing. The fabric made with SHINE-UP has physical properties similar to that of regular polyester, it is easy to dye and finish and retain texture of the fabric without chemical treatment.