Introduction of China Bambro Textile Co., Ltd.
China Bambro Textile, the leading company of application, marketing and services of Bamboo Fibers. It is a large-scale supplier focusing on innovation, manufacturing and trading of the natural, green, and biodegradable bamboo fiber.
Hoaxing Textile specializes in the research, development and application of the new-type eco-friendly textile material, Bamboo Fiber, which fills a new niche in green natural fiber in textile industries.
Bamboo Fiber is made from well-selected non-polluted bamboo in Yunnan Province. They are all 3-4 year old new bamboo of good character and ideal temper. As a kind of special profiled fiber bamboo fiber is 100% made from bamboo through high-tech process.
Bambrotex has passed Oekotex certificate

"I won't forget the feeling of coolness, air-breatheability bamboo fiber clothes give me"
"Wow! The bamboo fiber summer-wear is non-sticking to the body! I feel extremely cool and comfortable in the hot summer "
"what impresses me most is bamboo fiber's natural anti-bacteria character. I hate chemical anti-bacteria agent added in apparel production. Now I can say goodbye to allergy.
Above are some comments of Bamboo Fiber customers
We offer you to download a complete presentation on bamboo. Technical recommendations on how to work bamboo fibers can be obtained only by customers who bought our products.
Bamboo Identification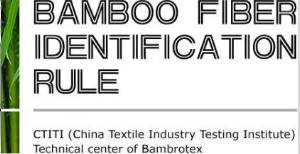 There is now a laboratory recommendation on how to determine that bamboo yarns and fibers are really made from bamboo and not from simple viscose. For more details you may download our provisionary PDF document