bioactive


| | |
| --- | --- |
| Wellbeing from pure silver | |
smartcel bioactive fiber does no longer exist at Smartfiber. It is now produced under the guidance of TITK. A new page will be created. Inquiries for this fiber and yarns can be directed to Swicofil.
Functionality / Features
In ancient times silver was used to disinfect water supplies. Our great-grandparents put a silver coin in water or milk to preserve their freshness. bioactive benefits from the advantages of the bactericide silver on the basis of highly competent scientific testing.
The effectiveness of silver is based on the release of so called ions, electrically charged positive elementary particles, These ions kill bacteria, fungus and viruses in a natural way by blocking their energy reproduction, i.e. microorganisms "starve" in a manner of speaking. Since no bacteria can develop, there is no decomposition process and thus no unpleasant smells.
By integrating finely ground ion exchangers, large quantities of silver can be bonded into the functional fiber making it bioactive. High charging capacity and uniform distribution ensure extremely high efficiency. The silver content can be adapted precisely to each specific application, thereby permitting exact cost management.
Certificates
bioactive provides high efficiency in its antibacterial effectiveness even after more than 80 wash cycles at 95°C. Its antibacterial action has been certified by independent laboratories. The Research Institute Hohenstein certified bioactive's high antibacterial effectiveness. Dermatological tests by ProDerm of Hamburg have confirmed its excellent compatibility with skin and fabrics complying the requirements of EN ISO 10993. bioactive has also been included in the list of bioactive substances accepted by Eco-tex.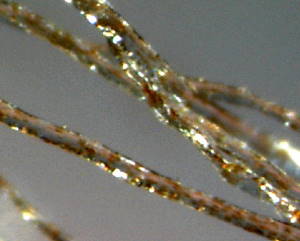 Fiber composition (mass percentage) in air-conditioned state
| | |
| --- | --- |
| Material | Menge |
| Cellulose | > 80% |
| Silver | 5 - 8% |
| Ion exchange resin | 10 - 12% |
| Finisher | < 0,5% |
Textile-physical fiber characteristics
| | | |
| --- | --- | --- |
| Property | Unit | Value |
| Yarn count | dtex | 6,5 - 7,3 |
| Tear resistance | cN | > 17 |
| Tear resistance-V | % | 15 |
| Elongation | % | > 14 |
| Initial module | cN/tex | 580 |
| Tear resistance (based on yarn count) | cN/tex | > 23 |
| Loop tenacity | cN/tex | > 5 |
cut length: 38/40 mm
colour: beige/brownish
odor: odorless
colorability: colorable in all middle and dark tones
| | |
| --- | --- |
| silver 5% load | electron microscope image |
| | |
Fields of application:
bioactive textile fibers can be applied where permanent hygiene or infection prevention is needed:
For a well explaining recent film on German TV MDR please click on this Shockwave film http://www.swicofil.com/suppliers/smartfiber/mdr_englisch.swf
---
technology
smartfiber brings the intelligent world of smart polymers directly to your business.
We combine our unique, self developed functional fiber with various different functional polymers to manufacture products with out-of-the-ordinary and astonishing properties. The functional fiber is made from cellulose using a modified ALCERU® production process*. Both the biogenetic raw material and the production process are environment-friendly, and the fibers are biodegradable. The ALCERU ® technology is the result of scientific research and development by the Thüringische Institut für Textil- und Kunststoff-Forschung (Thüringen Institute for Textile and Plastics Research - TITK) in Rudolstadt. This innovation combines the familiar advantages of cellulose fibers, such as wearing comfort and optimal moisture absorption, with functional properties such as bioactivity and comfortable temperature adjusent. Overall, functional fiber is characterized by high ecological quality and resource conservation, excellent suitability for textile processing, wide versatility in application and high efficiency combined with an extremely good cost/performance ratio.
*The ALCERU® process is a protected registered trademark of the Thüringen Institute for Textile and Plastics Research (TITK) and is the name of an original and patented manufacturing process. For further information on the ALCERU® process please refer to the website www.titk.de .
production process
To manufacture functional fiber, amine oxides and water are used to separate the cellulose directly and without chemical modification, and the textile fibers are then produced in a spinning process. The ability to mix organic and inorganic additives homogeneously into the fibers makes it possible to produce various functional materials on this common cellulose base.
discover the world of intelligent fibers.