Spundyed DECORA Polyester POY yarns


PET Decora for texturizing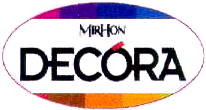 Mirhon DECORA® spundyed yarns

DECORA for automotive applications

Today, 65% of all textiles used in the automotive sector are made from polyester filament yarn: seats, door panels, roof-lining. Because of its outstanding capacity for development and creativity,

Miroglio (formerly owned by Setila) is one of the leading contributors to this market, supplying the right yarn to equip more than 3 million vehicles with fabrics and velours in a wide range of colours. A close collaboration with the automotive manufacturers ensures a perfect creation of fabrics which will be used in the cars of tomorrow.

To meet the demands of the world's major automotive producers, Miroglio

offers DECORA ® a spundyed polyester yarn whose technology allows the manufacturer to achieve exceptional resistance to the effects of lights and UV rays. The technology and performance features of this yarn underline Miroglio's ensured position in the automotive market.

The assets of polyester filament yarn are undisputed throughout the world: its tenacity, crease resistance, good thermo plasticity for all texturizing processes, a pleasant handle and its good blending properties with animal and vegetable staple fibers.

Technology has allowed the utilization life of a vehicle to be increased by several years. With the application of spun dyed DECORA polyester yarns it is now possible to reach the same durability levels for the interior of such vehicles. Upholstery, side panels and roofing fabrics retain their colors in spite of exposure to light, UV rays, high temperatures and humidity.

High service value demands in terms of shape stability, rubbing fastness and ease of maintenance are calling for polyester to be used. With today's demands for recycling the use of one single material is a must in the automobile industry.

Jet- or spin dyeing of polyester filament is a speciality of Miroglio. Compared with piece dyeing, high quality dyestuffs are added to the spinning mass. This results is a number of distinct practical advantages:
The additional cost of spun-dyed raw material is significantly lower than the expenditure for subsequent piece-dyeing. Dependent on colours, fabrics made from DECORA ® are 6 to 10% less expensive than piece-dyed goods. The piece-dyeing of small lots involving high energy and water consumption, often with carrier additives, is not needed with spun-dyed yarns.
DECORA ® - a direct and genuine contribution to environmental protection.
The advantages of spin-dyeing are the:
- Depth of the colour
- An unusually wide palette of bright colours
This was what man-made fibers were unable to give textile designers, interior designers and artists until now: woven fabrics, warp knitted, circular knitted and other fabrics with the excellent properties of rawwhite polyester yarns, but with far more opportunities for colours and colour accuracy.
Spun-dyed DECORA ® guarantees maximum colour evenness from lot to lot permitting the production of extremely large batches in a uniform colour.
In fact, up to 60'000 meters of fabric in the very same shade from the first to the last meter. This is only possible with spin-dyeing. Additionally, a much more precise shade continuity from lot to lot. Colour and spinning mass can be precisely adjusted for accurately predictable results.
The advantages in making up are obvious:
No more complaints about colour differences - smooth punctual processing throughout the entire production process right up to the consumer.
DECORA ® has excellent colour fastness values. The colors meet automotive standards with a grade of 7 on the 5x FAKRA test blue scale, grade 4 on the grey scale and they are tested according to
DIN 75202 relating to the determination of heat light-fastness of synthetics in vehicle interiors
Maximum light fastness results are achieved. Maximum values are recorded for washing, water and perspiration.
Unlimited texturizing possibilities, both in air jet and torsion technology (PU friction disks).
Enormous thermo plasticity proves itself especially in texturizing, no matter what process in fact, only spin-dyeing made the production of colored HE (single heater or FT) yarns possible.
In every finished form, spun-dyed DECORA ® yarns retain their properties with an absolute minimum of deviations.
Small as well as very large quantities can be produced in the same colour, whereby exactly the same tone in terms of shade and lightness will be reproduced from the first to the last kg. All spinning campaigns are subject to colorimetric testing, they are continuously compared with the master (original color) and produced within narrow tolerance limits. All repetitions are true to the original colour.
Spun-dyed yarns are used to produce blended yarns in air texturing. Various color tones are obtained by varying delivery of core / effect yarns
They are also used in parallel Taslan.
Comprehensive colour cards with automobile standards are available.
However, in principle, any tone can be reproduced, provided it meets the strict requirements of equality, colour accuracy and possibility for metamerism.
Spun-dyed yarns lead to reduced environmental damage, given that there are no remainings of dye baths created or auxiliary materials which then have to be disposed of.
DECORA ® has a comprehensive range of yarn counts to cater for every possible area of application.
Apart from the standard yarns, a wide range of yarn counts is available from dtex 30 to 500, either bright or semidull in various cross-sections. A wide range of applications is possible: twisting, texturizing, weaving, knitting, double plush-Raschel and of course warp knitting for car upholstery, car headlining, side panels, rear parcel shelves, upholstery fabrics and furnishing fabrics.
Automotive Decora colours - please click for bigger picture
Normal textile Decora colours - please click for bigger picture
These shades are on flat fully drawn yarn basis
The idea of this online shade card is to give you a first idea about the standard shades. With this tool you may choose the nearest color tongue as an initial color tongue sample. The color may be different from PC to PC because of the monitor settings (color warmth, color depth, lightness and contrast).
The number of applications is immense and most of them have been examined by Miroglio (Decora was formerly owned by Setila) specialists. Why not get in touch with us?