Carbon bamboo fiber from
ABrand Technology Company


Carbon bamboo yarn & fiber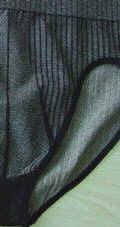 Bamboo Carbon Fiber is a new textile fiber invented in China. In its process, Bamboo Carbon is firstly made into tiny powder by nanometer technology and then melted into PET (polyester) fiber by melting filature process.
Bamboo Carbon Fiber has good function of negative ions. It can absorb the smell of human body, smoking and gas chemicals like formaldehyde with its porosity and absorption possibilities.
Bamboo carbon can balance moisture, i.e. it can work as drying agents and as moisture reserving agent. Hence, underwear and socks from Bamboo carbon fiber can eject sweat, absorb moisture and eliminate odor. It absorbs sweat in warm weather and reserves warmth in cold weather. Besides, its far-infrared rays can penetrate skin and promote blood circulation, ease fatigue and is applicable to waist and knee protection.
Bamboo Carbon Fiber is entitled as "Black Diamond" in Japanese market. It is suitable for intimate wear and protection garments. Its function is permanent and will not be affected by washing.
Bamboo Carbon fiber Program
Bamboo carbon staple fibers


Bamboo carbon spun yarns