Wramp from Kuraray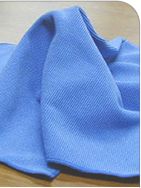 Efficiency of micro fiber for perfect wiping
Synthetic leather has been the first application of micro-fiber in fiber industry.
Now micro-fiber is widely used in various application from women's wear to industrial materials utilizing its soft and flexible surface.
Another important application where the function of micro fiber works is special cloth for wiping.

WRAMP is a conjugated filament consisting of 65% polyester and 35% nylon with each component laterally split into 11 elements of micro-fiber. WRAMP's easily split element has a very unique shape with sharp edges suited for scraping the micro dust or stain on the object surface. Because of such good wiping performance, fabrics made from WRAP are good for polishing the surface of precision instrument, glass and for daily wiping use.
Available in dtex 84 f 24 und dtex 167 f 24 in fully drawn FDY and in draw textured DTY.
Sharp edge of split fiber as scraper (and still very soft)
Characteristic of WRAMP is its unique bladed shape with sharp edges. WRAMP can contact closely to an object surface than rounded shape micro fiber. Sharp edges can scrape stain and dust more efficiently than any other micro fiber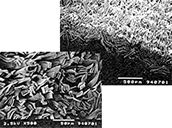 Large amount of stain can be removed by WRAMP. WRAMP can wrap and contain stain into the bulky structure of huge fiber surface area.