Crabyon Fibers


Crabyon

New !
CRABYON®, a fibre with crab's pulp
The Crabyon® fiber is realized with a blend of chitosan and viscose. Chitosan is a product derived from chitin, a compound of natural origin obtained from the shell of crab and shellfish. Chitin is an absolutely "safe" material, with a scientifically proved biocompatibility, and it is used in the medical, health and pharmacological fields too.
The chitosan's structure is very similar to cellulose, so in blends with cotton and viscose the new Crabyon® fiber is extremely versatile and easy to dye.
From the physical resemblance between chitosan and cellulose derive a very high textile easiness for manufacturing, with an excellent dye ability with reactive and direct dyestuff, and a very soft "hand", who make the Crabyon blends ideal for use in the textile market.
The antibacterial and antimicrobic performance is given with the inhibition of the bacteria's' growth, so having an anti-smell function too. The high level of comfort, the anallergicity and the high humidity absorption (e.g. sweat) give to the clothes realized with this fiber the capability to be used to direct skin contact, as in underwear, socks, pyjamas, and so on.
The Crabyon® fiber, due to the fact that it is a blend of chitosan and viscose structurally bound, keeps its characteristics permanently during time, not being conditioned neither by washes, nor by abrasion or other external actions.
The percentage suggested to obtain the above mentioned characteristics varies from 5 to 20% on the fabric, depending on the blend.
Application possibilities
Area

Items

Sports

Baseball

Uniform of professional baseball team

Wrist band

Underwear for baseball uniform

Slide pants etc

warm-up suit

T-shirt

Socks

Sweatshirt

Suit for Judo

Underwear for Judo

The others

Tennis socks

Under wear for soccer, skiing

Sweat band

Inside cloth of shoes

Socks with 5 toes

Underwear

Infant

Child

Men's

Men's underwear, Brief, Trunks

Lady's

Lingerie, Bikini brief

Socks

Uniform

School

Gymnastic uniform (Shirts, T-shirt, Sweats)

Polo shirts, Spats

Working

Polo shirts, T-shirt

Office

Blouse, Cardigan

Pajamas

Lady's wear

Baby clothes

Outer wear

Blanket

House interior

Bedding

Ticking

Bedcover

Pillowcase

Towels

Non-woven fabric

Dish towel

Mask filter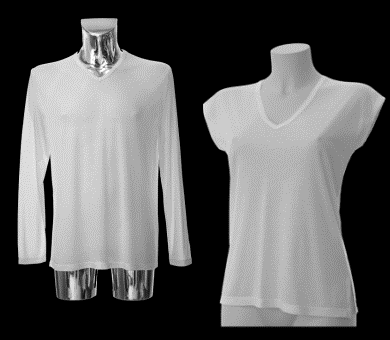 Wellbeing from nature
Crabyon - The T-shirt made from a Crab's chitosan fiber.
Our range of underwear and clothing designed especially for sensitive and delicate skin, is made with this amazing new fiber composed of Crabyon-Chitosan Micromodal.
Studied and tested as antibacterial, an allergic and ecocompatible
The Crabyon Chitosan fiber is suitable for subjects suffering skin troubles (dermatitis, allergies, decubitus irritation, erythema, ezcema). Absolute comfort for sensitive and delicate skin.
No pollution! It is biodegradable!
Effective of antibacterial function for a long time
Because Chitin/Chitosan is a built-in part of CRABYON, its antibacterial function stays unchanged against washing or abrasion for a long time.

Ratio of Chitin/Chitosan in CRABYON is widely variable
Ratio of Chitin/Chitosan can be varied in wide range of 1 to 99% depending on requirement of fiber. Blended spinning can be done with other fibers such as wool, cotton, etc.

Excellent for weak or sensitive skin
CRABYON keeps skin from drying because its moisture keeping property is more excellent than any other cellulosic fiber. At the same time it gives a velvet touch and no irritation to the skin. CRABYON is safe and comfortable even for people with weak or sensitive skin like babies or aged people.

No change in physical properties
Physical properties of CRABYON are almost the same as those of regular rayon fiber.

The dyeability of reactive dyes and direct dyes to CRABYON is excellent
Dyes CRABYON shows excellent touch and hue.

CRABYON is very helpful in conserving the biosystem
Chitin/Chitosan, with activation of Iysozyme, is a natural organic resource essential to conservation of biosystem of the earth. CRABYON has been developed with the idea of making the most use of this natural resource.

A lot of consideration to the environment
OMIKENSHI is making the most use of waste from crab meat processing factories, crab shell, as raw material of Chitin/Chitosan.
In 1997 OMIKENSHI was award the Ministery of International Trade and Industry Prize at the Recycle Promoting Council for contribution to recycle of resources through production of CRABYON.

CRABYON is totally biodegradable. In this sense it is no burden to the environment.
Fig. 4 / 5


- Antibacterial effect of CRABYON

Fig. 6


- Water absorption property


(By Weireck Method. JIS L1907)

Fig.7


- Moisture absorption property


(at20°C, 65 R.H.)

Fig. 8


- Softness


(By Gurley Method. JIS L1096
The idea behind the development of CRABYON is the fact that chemical structure of Chitin/Chitosan is quite similar to that of cellulose. The idea led to development of technology to make Chitin/Chitosan viscose. CRABYON, composite fiber of Chitin/Chitosan and cellulose, is manufactured by uniformly blending Chitin/Chitosan and cellulose viscose molecules and extruding the blended viscose into the spin-bath. OMIKENSHI has a patent for this technology in Japan and U.S.A under the title "Process for producing articles of regenerated Chitin/Chitosan containing material and the resulting articles". The same patent is pending in U.K., Germany, France, Italy, and Austria.
There are two other types of fibers containing Chitin/Chitosan.
After treatment type
Chitin/Chitosan is fixed on the fabric with binder. It is apparent that Chitin/Chitosan decreases as fabric is washed, leading to lesser function.
Mixed type
Chitin Chitosan powder is simply mixed with cellulose viscose. The more the physical properties of fiber weakens during wearing/washing the higher the percentage of powder becomes, there is a limit of quantities of powder to be mixed. (Fig. 2)

As you can see, CRABYON is completely different from the above two types fiber. ( fig. 3)
Surface appearance of fiber dyed with acid dyes.
Fig. 2
Mixed type
Red point are chitosan

Fig. 3
CRABYON
Chitin/Chitosan and cellulose form so uniformly as to be dyed green evenly.
CRABYON PRODUCTION FLOW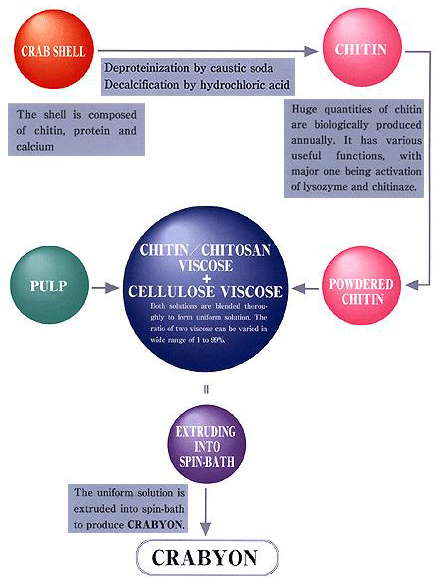 What is CRABYON?
Composite Fiber of Chitin, Chitosan and Cellulose: Only one in the world Chitin/Chitosan, natural substance, nowadays attracts a lot of attention in the field of medicine and food for improving human health.
OMIKENSHI, have established a commercial process to produce Chitin/Chitosan solution without using organic solvent and commercialized production of fiber under the brand name of CRABYON by co-extruding with cellulose viscose.
Why Chitin/Chitosan?
One point is its high function. It is known that Chitin/Chitosan is biologically produced on the earth in large quantities and that Chitin/Chitosan has many excellent properties. Major and basic function is activation of LYSOZYME and CHITINASE, enzymes which decompose cell membrane and inhibit growth of disease bacteria. Through this function natural bio system is kept well balanced and human body is protected against disease bacteria and toxic substances.
The other point is its safety. Since Chitin is 100% natural it is quite a safe substance. Safety has been well verified through oral intake and dermal absorption tests. This is quite different from the other organic and inorganic functional materials now in the market.
These two points are key elements for Chitin/Chitosan. In the worsening environment of the earth, it is quite essential to rely on the natural substance such as CRABYON for improving human health.
For a MSDS on Crabyon fibers please follow this link
A technical Data Sheet can be found here