The solution for these requirements is a quality twist with an elastic core. This high-tech product is called ElastoTwist.
ElastoTwist yarns are produced exclusively on Hamel machinery in the hollow spindle process. Un-elastic natural or man-made fibres are wound around the elastane core and cover it. Thus the yarn acquires the look and feel of the elastic core yarn.
ElastoTwist combines tradition with progress and elegance with comfort. It ensures a secure future, creates a new feeling of comfort and opens new doors for creativity. ElastOTwist is therefore more than just a production process - it embodies the life style of today.
ElastoTwist means more security for all downstream processors and consumers. The elastane core is not twisted, it is truly covered and thus ideally protected. This leads to a drastic improvement in the retraction power of the finished fabrics. ElastoTwist has the special twist for more elasticity with this technology.
Behind ElastoTwist stands the Hamel hollow-spindle process backed by the latest technology. Optimal textile technological features can be archieved with the twisting machine ElastoTwister. Equipped with completely enclosed spindles, the ElastoTwister is the only machine in the world wich allows twisting without air resistance and without thread balloon.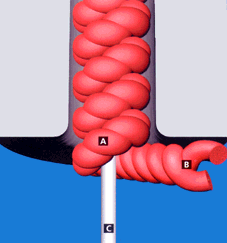 Graphic: ElastoTwist yarn build-up
A - Perfect cover
B - Regular twist
C - Not twisted elastane
The elastane core is fed from the separate feeding device through the hollow spindle from below. Leaving the spindle, the staple material is twisted with a very low tension and wrapped around the elastane core. The elastane core is not twisted.
In the twisting process only a very low mechanical strain occurs, thus there are hardly any thread breaks. The process offers enormous quality advantages and high flexibility.
no soiling by fibre fly
low and even thread tension
low hairiness
even wrapping around the elastane
elastane core does not obtain any twist.
ElastoTwist means customer specific solutions for the growing market for stretch products. In the count number of Nm 10/2 to 200/2 (elastane range 22 to 156 dtex).
ElastoTwist means more comfort with a fantastic feeling of comfort never before attained. Fabrics are given more elasticity and retracting power.
ElastoTwist means better quality. Because it is a real and complete covering process. Twisting and wrapping at the same time. As the elastane is not twisted, the yarn elasticity is always fully maintained.
ElastoTwist means more dimensional stability. All clothes withstand bagging and creasing. They keep their shape and appearance, even after many washes and cleanings.
ElastoTwist leads to an attractive look, silhouettes show smooter outlines, unstructured fabrics keep their shape. The feel and look of the fabrics improve.
ElastoTwist opens new doors for creativity. Styling gets a new dimension and new looks and images can be created for the fabrics.
ElastoTwist means more profitability in the whole downstream processing of the elastic fabrics. Thread breaks are almost eliminated, handling is easier and there is less second choice.

For unlimited
elasticity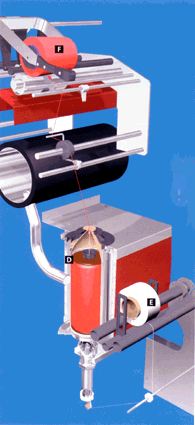 Graphics: ElastoTwist-process
D - Enclosed spindle
E - Elastane
F - Successful product
Thanks to the closed pot spindles, the covering process on the ElastoTwister can be carried out at much higher spindle speeds and package weights compared to conventional covering systems.
ElastoTwist introduces a lot of exciting elasticity into your market.

See it - in the market
As an innovative and creative concept, ElastoTwist offers a wealth of solutions for futureoriented companies. They know what is importen; products with the right quality, the best cost/performance ratio and full acceptance from the consumers. ElastoTwist fulfills these expections.

Live it - in the market
Fashion moves. In clothes in which everybody feels comfortable. Made of fabrics in which the technological properties are fully abundant.

Feel it - in the comfort
People have dreams and wishes. They work hard and they have the right to feel relaxed and easy. They demand comfort. Products which fulfil their aims are becoming more and more popular. Thus it is no coincidence that ElastoTwist plays a rather comfortable role.

Looking ahead - into the future
The demands of consumers and customers will certainly further rise in the future. Comfort will gain in value. So new and attractive perspectives will open up for textiles with built-in comfort. ElastoTwist gives you the green light for a happy ride into the future.

Obtainable - oround the world
Happily ElastoTwist is obtainable througout the world. In a variety of products which is constantly growing. Creativity has no limits. In all walks of life. ElastoTwist is meant for all people, who enjoy moving.

The name is purely
elastic
ElastoTwist is tailormade for the customer demands of today and tomorrow, fulfilling their requests in an active market. For
more comfort
more market
more fashion
more possibilities
more products
more quality
more flexibility