Spundyed DECORA Polyester


PES Decora product list

As per 01.10.2005 Miroglio of Alba Italy has taken over from Setila Widnau the entire Decora line. This includes color laboratory, all production equipment, the recipes, the trademark and the trademark DECORA. The equipment is mounted in Miroglio' s Saluzzo plant and is expected to be fully operational in 1st quarter 2006.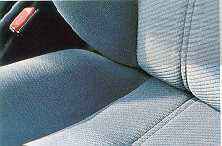 DECORA ® has a comprehensive range of yarn counts to cater for every possible area of application.
Apart from the standard yarns, a wide range of yarn counts is available from dtex 30 to 500, either bright or semidull in various cross-sections. A wide range of applications is possible: twisting, texturizing, weaving, knitting, double plush-Raschel and of course warp knitting for car upholstery, car headlining, side panels, rear parcel shelves, upholstery fabrics and furnishing fabrics.