Camenzind Gersau - Fine European quality silk yarn production history





Company History - Introduction
On May 7, 1730 the authority of the Republic of Gersau, Mr. Sebastian Melchior Rigert, granted the approval to rot and wash silk on the Bachstatt am See. Rigert acted by order of Josef Augustin Reding from Schwyz, the real founder of Gersau's silk industry. The Schwyz authorities had denied Rigert the corresponding approval.
The first large silk factory was set up in the "Eggi" in 1846/47, followed by the one in the "Bläui" in 1859/60. The third factory, the "Seefabrik", was built as early as 1861. Large factory buildings were the result of the rapid mechanization of silk processing, which was based on waterpower. All three factories had been built along the village stream. The water flowing down from the Rigi mountain was needed to drive the machines, whereas the lake was the place where the raw material arrived as well as the place where the finished silk products were sent out.
Several buildings added in 1939, 1948, 1953, 1990, 1996 and 2001 have concentrated industrial activities in one site, namely in the "Bläui". The silk spinning mill exists in Gersau since 1892 under the name of Camenzind & Cie. However, in 1994 the limited partnership was transformed into a joint-stock company and its name changed to Camenzind + Co. AG. The company manufactures high quality yarns from silk or silk blended with other natural fibers such as cashmere, wool, cotton, and camel hair.
All Camenzind yarns are still manufactured in Switzerland, and then sent all over the world. They stand for continuously reliable high quality.
This is a team of about 35 staff who produce approx. 80 metric tons of yarn.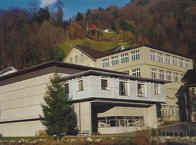 Silk processing being a tradition in Gersau since the year 1730. The silk industry developed from home worker activities of local families. In 1845 the "houses of trade Camenzind" erected the first mechanical spinning mill at Gersau. In 1892 Camenzind + Co. was founded with the object of manufacturing and distributing finest spun silk yarns. At that time already, as well as today, the selection of raw-materials forms a central quality focus. We maintain close relations with the most important raw-material suppliers in many classical silk-producing countries, such as China, India, Brazil and Russia. Good contacts with local and European silk trading firms help us to secure supply of best raw-materials even in more difficult times. Thanks to our know how which is passed on from generation to generation and which is continuously extended, our widely appreciated quality can be kept constant and at the highest level - for the benefit of our customers.
Silk is often - and rightly so - praised as the queen of all textile fibres, as a true natural wonder, Indeed, no other natural fibre which is being used for human apparel features so many qualities. Silk is noble, elegant, of distinguished luster and creates a pleasant feeling of well-being for people who wear garments made of silk. Silk has optimal physiological qualities. No other textile fibre combines fashionable elegance and nobility with extraordinary wearing comforts in such a perfect way. Modern technology combined with decades of good experience and continuous research allow us to deliver silk yarns and silk twists that meet the strictest demands of our customers. It is of special importance to us that we deliver silk yarns which can be processed in trouble free manner, thus ensuring an efficient production at our customer's plants. Still in this year of our 100th anniversary we shall be able to deliver our spun silk yarns free of black hair and coloured foreign fibres. All single yarns and all fine twists will be electronically controlled in such a manner that any coloured foreign fibre and definitely any black hair will be detected and eliminated by means of the most sophisticated technology applied. Yarns and twist are being spliced - another advantage for our customers.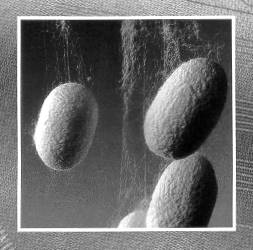 Renowned weaving- and knitting mills in Europe as well as Overseas prefer to use quality yarns. Our range of products includes best quality yarns and twists of 100 % spun silk and in fine counts, such as 200 metric, as well as coarser counts, sown to metric 2. We deliver on cones or in hanks. In addition, we also produce yarns and twists made of 100% Spun Tussah Silk, as well as Silk-Noil yarns, natural or bleached. All yarns are good for knitting and weaving. Our line of products is enriched by an interesting variety of blended yarns of Silk together with other natural fibres, such as Cashmere/Silk, wool/Silk, Silk/linen and cotton/Silk. We also cater to customer's requests, even with regard to exclusive rights, be it for smooth or fancy yarns or unusual compositions. Also, we deliver dyed yarns, hank- pr package dyed with a soft finish or with the unmistakable silk crunch - and exactly according to the colour samples submitted by the customers.