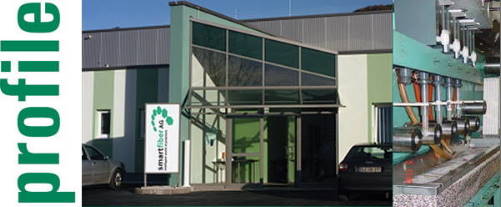 smartfiber AG has its head office in Rudolstadt (Thüringen) and develops, produces and sells TM functional fibers with different functionalities for a wide range of industrial segments. Founded in 2005, smartfiber AG combines the scientific know-how gained over ten years of research and development activity by the Thüringen Institute for Textile and Plastics Research (TITK) in Rudolstadt with the corporate background provided by marketing and sales professional Michael Kohne. On the foundation of the original polymer research by TITK, the company manufactures TM functional fibers, which depending on the additive used offer a variety of exceptional performance features and efficiency levels, such as extra-high absorption, bacteria reduction, electrical conductivity etc.
---
To manufacture functional fiber, amine oxides and water are used to separate the cellulose directly and without chemical modification, and the textile fibers are then produced in a spinning process.
The ability to mix organic and inorganic additives homogeneously into the fibers makes it possible to produce various functional materials on this common cellulose base.
smartfiber is the supplier of functional fibers to our spinning partner.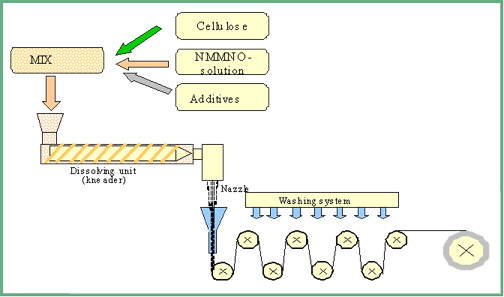 technology
the intelligent world of smart polymers directly to your business
We combine our unique, self developed TM functional fiber with various different functional polymers to manufacture products with out-of-the-ordinary and astonishing properties. The TM functional fiber is made from cellulose using a modified ALCERU® production process*. Both the biogenetic raw material and the production process are environment-friendly, and the fibers are biodegradable. The ALCERU ® technology is the result of scientific research and development by the Thüringische Institut für Textil- und Kunststoff-Forschung (Thüringen Institute for Textile and Plastics Research - TITK) in Rudolstadt. This innovation combines the familiar advantages of cellulose fibers, such as wearing comfort and optimal moisture absorption, with functional properties such as bioactivity and comfortable temperature adjustment. Overall, TM functional fiber is characterized by high ecological quality and resource conservation, excellent suitability for textile processing, wide versatility in application and high efficiency combined with an extremely good cost/performance ratio.
*The ALCERU® process is a protected registered trademark of the Thüringen Institute for Textile and Plastics Research (TITK) and is the name of an original and patented manufacturing process. For further information on the ALCERU® process please refer to the website www.titk.de .
TM - discover the world of intelligent fibers.