Setila - weaving industry partner


Setila AG in Widnau (Decora, POY, Cops) has not been able to find a solution with a new investor to guarantee continuation and therefore is now definitely shutting down the production at the end of September 2005. Below please find the official good bye lines from Widnau.
The management and the staff of SETILA AG Widnau Switzerland, would like to express all our gratitude for these numerous years of the loyal cooperation in spite of the difficulties we had to handle with. The long history of our businesses finishes with stopping the production end of this month.
After numerous successive and social plans and a situation which has gotten worse from day to day, we think that we have made the maximum to find a solution for SETILA AG and to gratify sufficiently about your wishes.
We wish you for your future health and prosperity for your business as well as for your personal projects. We close the book of the SETILA AG, but we will open others.
With faithful and cordial greetings.
The Management
The staff of the SETILA AG Widnau Switzerland
Fernand Fürst
Of course we all at Swicofil would have wished a solution with Widnau continuing to be the production site.
Setila SA in Valence (FDY, POY) is a separate legal entity and as such not hit by the situation of Widnau. Swicofil will continue to sell the rawwhite Valence products.
For all current Swicofil sales which came out of Setila AG Widnau we have worked out a substitution plan and we will be providing the customers in the same good tradition with products of an excellent quality and an impeccable service. Looking forward to continue serving you with polyester textile filament yarns both in rawwhite and spundyed.
previous text of this page was:
Pattern variety at low cost
by Urs Nef / Sulzer Textil and Wolfgang Morgenstern / Setila AG
Outerwear fabrics can be produced extremely economically if differently patterned or textured cloth can be produced with the same warp but different weft yarns and weaves. Today, thanks to new, innovative yarn materials for warp and weft and the use of a versatile weaving machine, it is possible to weave a broad range of different fabrics with a minimum of changeovers in the weaving room.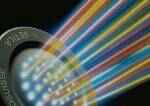 Achieving a variety of patterning effects by insertion of different weft materials and/or the use of a different weave with the same warp are well-known ways of simplifying the style structure. The fabric structure is modified on the one hand by the use of weft yarns differing both in their yarn count (in the case of filament yarns the filament count and the number of filaments), color, yarn construction (single yarn or twist) and weft density; and on the other hand, where the weft yarns are the same, by different weaves. Depending on the machine model, resetting a weaving machine for a different weave, weft yarns, color sequences and weft density may be quite time-consuming. However, with modern weaving machines such as Sulzer Textil rapier machines this cost in time can be substantially reduced. By using special yarns, an even broader range of fabrics can be produced without making any changes on the machine.
Setila - polyester yarns for modern high quality weaving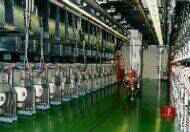 The Setila company of Widnau (Switzerland) concentrates in the production of special yarns for weaving.. Two of Setila's product lines are particularly relevant for this application:
To achieve different colours and dyes with melange effects, Setila developed the cationic dyeable polyester yarn Catelle®. This yarn is an ideal component for blends with wool or elasthane, which cannot be dyed at high temperatures. However, it can also be combined well with other fibre blends for bi-colour or multi-colour effects, as the illustrated samples show below. Thanks to the reactive anionic groups incorporated in the fibre, the yarn can be dyed with both dispersion dyes and cationic dyes at temperatures between 98 and 120 °C. This enables the yarn to be tinted with different color shades, and in this way interesting color effects and combinations can be achieved. Setila offers this modification as a normal and a fine-filament count, which gives the fabrics a special softness combined with high functionality, e.g. moisture transport. Last but not least, the cationic dyeable polyester filament yarn can be recycled easily with ordinary polyester yarn.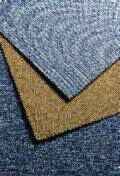 For a bigger picture please click the above thumbnail
Nowadays, apparel has to meet high standards of comfort. This is clear from the increasing demand for elastic fabrics. A second yarn range is now available for this area - Setila PBT-Lestin®. It is used wherever perfect fit, good wrinkle recovery and above all freedom of movement are especially important. Until recently, only fabrics which incorporated elasthane featured good dimensional stability and elastic recovery. Today, PBT (polybutylene terephthalate) yarns are a viable alternative. Setila AG included the elastic PBT filament yarns in its product range some time ago. They are always used in HE friction-textured form; the high-elastic polyester has a curling characteristic like polyamide filament yarns, with high elasticity and a unique recovery capacity if the curling was developed optimally, i.e. tensionless, in the first finishing stage. The wear comfort of this hard-wearing, body-molding leisurewear is outstanding. With these yarns, woven articles take on qualities that until now have been the domain of knitwear.

Patterning without limits
The example shown below illustrates the potential variety of fabrics woven with a single warp. The warp yarn used was a construction consisting of one thread of PES-Setila, dtex 167 f144, cationic dyeable, and one thread of PES-Setila, dtex 167 f48, disperse-dyeable, HE-textured and doubled during texturing, in a density of 24 threads per cm (finished).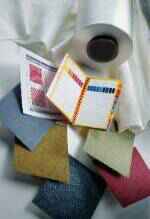 Simply by changing the weave and the weft material, a fabric with a completely different appearance results - see below picture. The influence of the finish and of dyeing is equally important. As already mentioned, the melange-like dye effects result in an appearance one would not expect of a fabric made of 100% polyester. The handle of these fabrics is very soft also, rather wool-like and in no way "synthetic".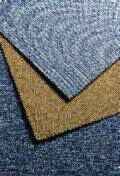 Weaving with high plant efficiency
With the equipment features described below, the versatile Sulzer Textil rapier weaving machines are ideal for the production of these fabrics.
The rapier system allows widely differing weft yarns to be woven simultaneously. Up to eight different weft yarns can be presented simultaneously. With the electronically controlled weft brakes each weft thread can be inserted with optimal yarn tension.
With the microprocessor control the color sequence and weft density can be entered or programmed at the terminal within a short time and without any tools, or transferred to the terminal via a pre-programmed RAM card. Within a few minutes the machine has been reset and a new style is ready for weaving.
In combination with an electronically controlled dobby, the change of weave can also be programmed quickly at the control terminal. Alternatively this can be done even faster with a pre-programmed RAM card.
Due to their rugged engineering design, user-friendly operation, appropriate level of automation, and electronic control and assistance, Sulzer Textil rapier weaving machines (Fig. below) are the ideal system for producing woven fabrics for fashion apparel.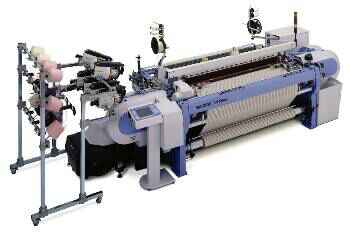 Sulzer Textil weaving machines are also used with great success to produce stretch fabrics from HE yarns. An in-depth report on this appeared under the title "Stretch fabrics - comfortable clothing thanks to Sulzer Textil weaving machines" in Issue 4/99 of this journal.
Cooperation for mutual benefit
Through the cooperation of yarn manufacturers, weavers, finishers and dyers, a fashionable range of clothing fabrics can be produced efficiently and extremely cost-effectively. On request, the Setila consulting team and Sulzer Textil's Textile-Technical Consulting (TTC) will be glad to provide assistance.
Back to Setila Widnau main page

Explore the Sulzer homepage for their weaving loom range