Ronghua


Shanghai Ronghua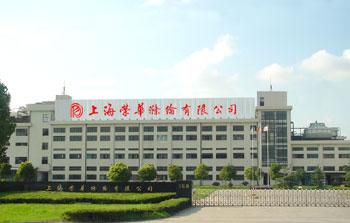 Shanghai Ronghua Ltd. is a large and modern joint venture established by Zhongning Corporation of Hongkong and Chedun Town of Songjiang District of Shanghai. They always persevere in developing the corporation by technology. Relying on the development of technology, they continuously research and develop products of high and new-technologies. The corporation has won the following honor successively: " Shanghai Advanced Technology Enterprises of Foreign Investment Certificate", "Top 500 in Turnover of Shanghai Enterprises" and "Honor the Contract and Keep the Promise".
Shanghai Ronghua Ltd. was established in November 1993 and the initial capital was 40 million US dollars. The corporation is more than 60 thousands m2 and has more than 400 employees.
At present the main products of the corporation are divided into 3 categories.
The first is polyamide filament: Ronghua Ltd. possess the very international-advanced equipment of nylon slice up and the polyamide filament product line which could produce 6,000m by only one step in a very high speed. In the first term the corporation has the following equipments:
- slice up of 5,500 tons annual,
- polyamide filament of 6,000 tons annual by one step,
- polyamide POY of 3,000 tons annual and
- polyamide filament of 5,500 tons annual.
The annual product of polyamide filament adds up to 14,500 tons. All the equipments are bought from Germany, Japan, USA or Taiwan. Polyamide filament is very satin and has water absorption. It is mainly used in clothes such as sports wear, dustcoat and raincoat. It can be used to substitute silk and peach skin fabric. To improve the standard of living, Polyamide filament can provide much better dresses to the people of mainland.

The second category is polyamide filament tow: Daily production is 20 tons. The fluey textiles made from polyamide filament tow have been widely used in clothes, decorations and art works.

The last category is polyamide staple: Daily production is 15 tons. It can be applied to various kinds of Wool spinning and Non-woven fabric.
This company implements the strict quality control, enters the factory from the raw material to leave the plant until the post-sale service to the product, all has the strict control procedure, by guarantees the quality qualified, the customer is satisfied. The company passed ISO9001 in 2003:2000 quality control system authentication.
"The qualified management, the technical innovation, continues to improve, is sincere but promptly provides the quality policy which the customer quality product" is we all along persisted.
Facing the challenge of 21 century, Shanghai Ronghua will continuously introduce advanced technologies to produce goods of high quality and increase the investment of R&D at the same time, according to the spirit of active exploitation and innovation. By our high tech and high quality product, our excellent credit standing, our first-class services and our principle of mutual benefit, we are willing to corporate with all the enterprises honestly and widely to share a good future.
| | |
| --- | --- |
| | |
| big carton packing of tow | small carton packing of tow |
Polyamide 6.6 Filament Tow product list (PA 6.6 tow)

bright

semidull

dull

0.8D

Triangle

X*

Round

X

X

X

1.0D

Triangle

X*

X

Round

1.2D

Triangle

X

Round

X

X*

1.3D

Triangle

X*

1.5D

Triangle

X*

Round

X*

X

X*

1.8D

Triangle

X*

Round

X*

X*

2.0D

Triangle

Round

X

X

2.5D

Triangle

X

3.0D

Triangle

X*

Round

X*

X*

4.0D

Round

5.0D

Round

X

7.0D

Round

X

15.00D

Round

X

X*
Remarks:
X* = merchandise normally in production
X = engage in advance - availability questionable