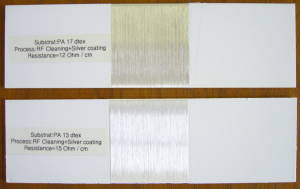 PA 6.6 monofilament plasma silver coated
dtex 13 & dtex 17.
We are working on a high brightness version for multiple head embroidery and one for other applications. Below please find the latest comparison. Click on image will enlarge it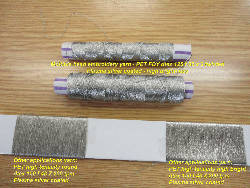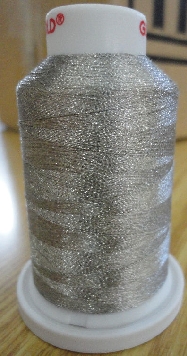 Multiple head embroidery yarn - plasma silver coated No. 40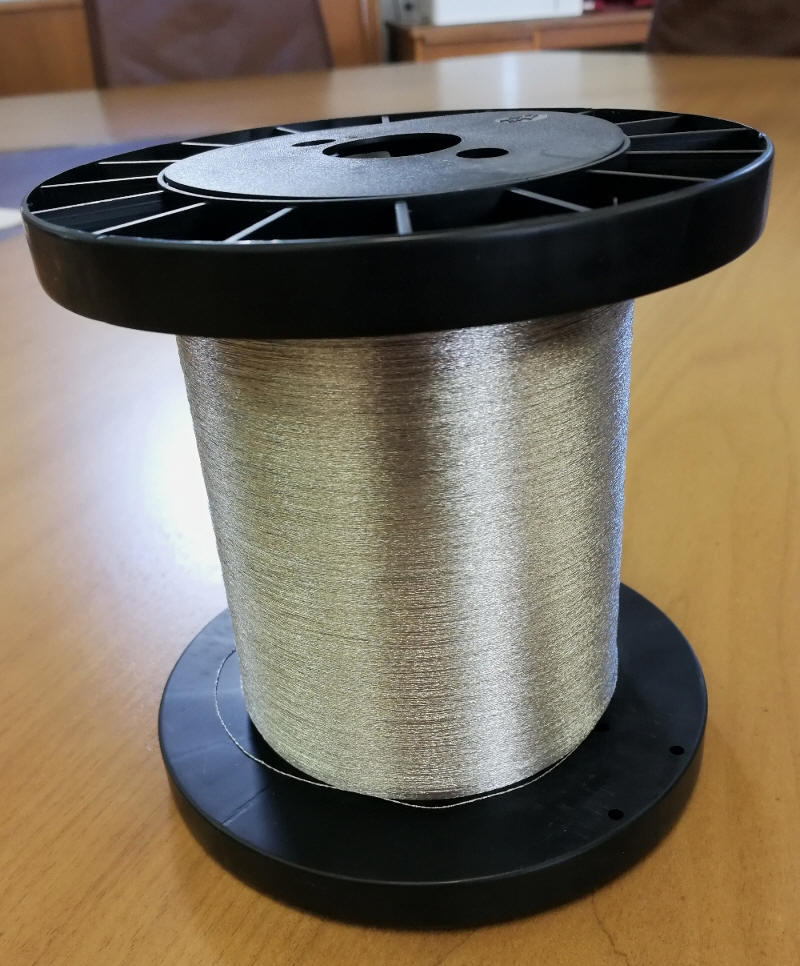 dtex 541 f 96 - after Lini Light test still 81% of silver on the yarn - resistivity is 0.37 Ohm/cm
Plasma silver coated yarns in polyamide and polyester or other filament substrates



Plasma silver coated yarns are very special.
If you need high quality and more precise coated yarn then plasma coated yarns are the right products.
Any filament yarn works well in plasma coating. Finest so far was a silver coating on PA 66 monofilament dtex 11 f 1 - coarsest is a PET high tenacity 550 dtex multifilament yarn.
The conductivity of these yarns can be engineered to your request and is very regular along the yarn. Ideal for process management applications. The coating is very thin and ensures that the final product still has a textile touch.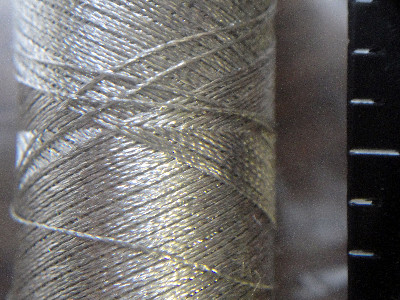 Plasma silver coated polyester dtex 125 f 36 2-ply
1.1 Ohms/cm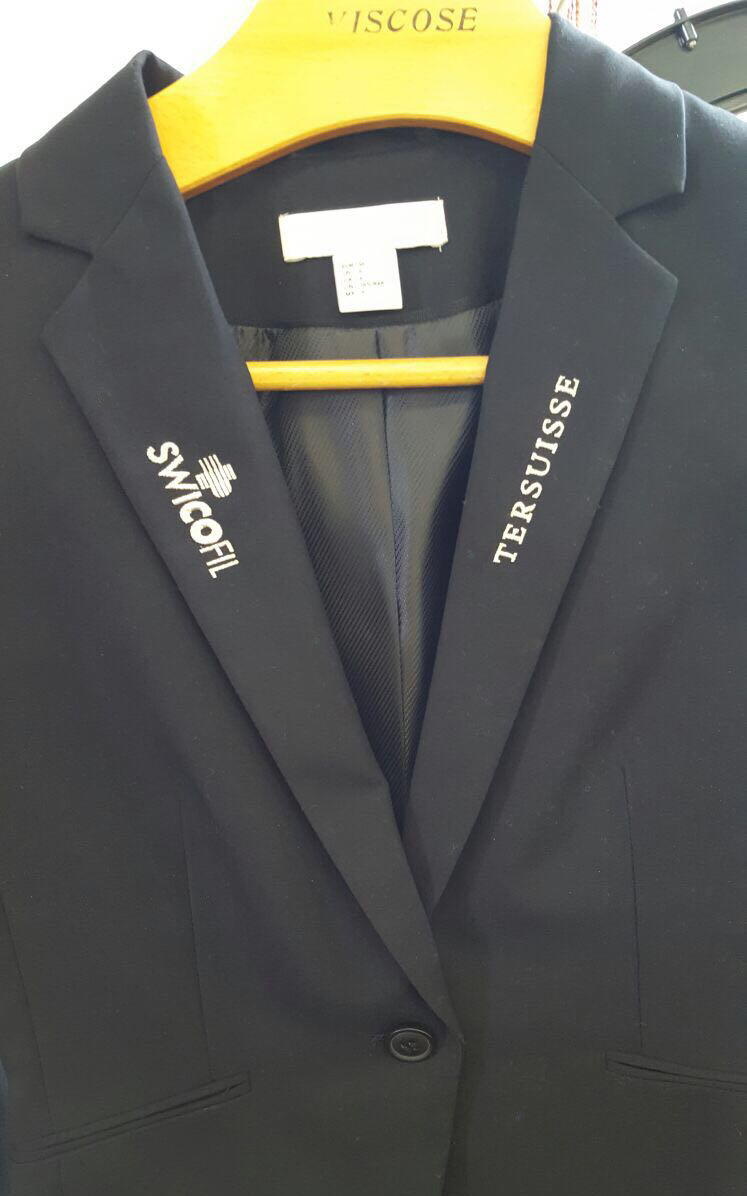 Plasma silver coated embroidery yarn on
Techtextil blazers 2017
Below:
Traditional gold tape yarn wound around core (Lamé yarn).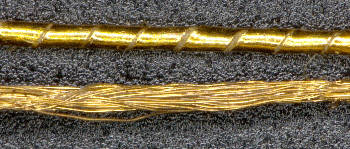 Lower yarn above:
PET h.t. plasma 24K gold coated multifilament yarn dtex 150 f 48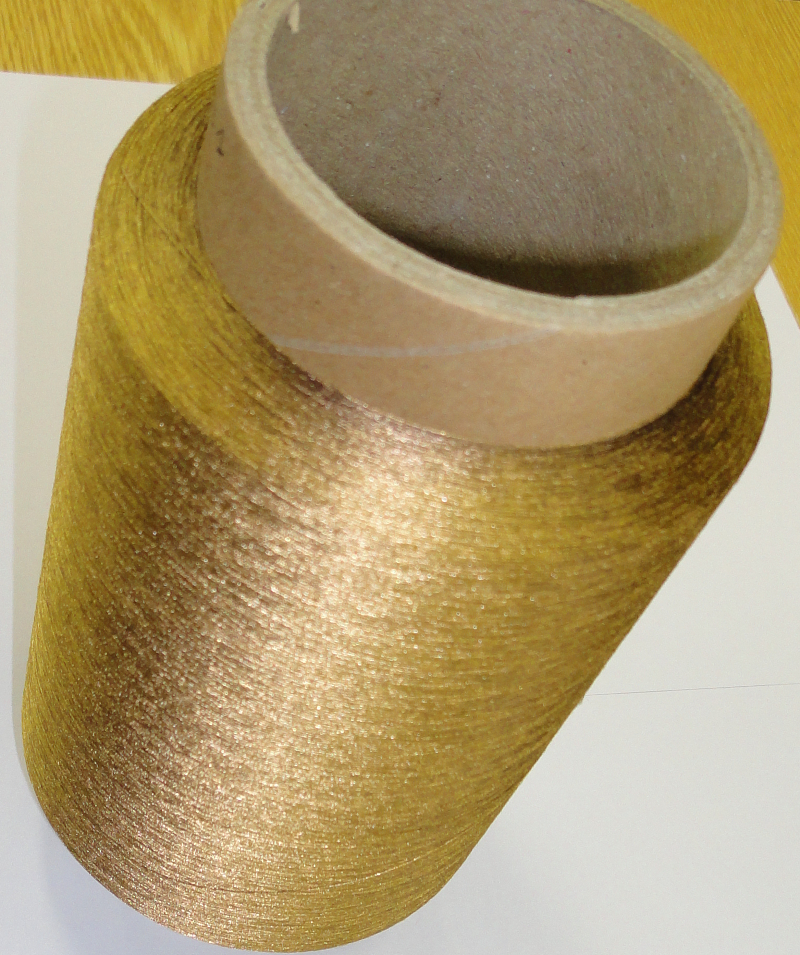 Picture of the original (second yarn above) on a bobbin.
Now hi-brightness gold quality for luxury and fashion applications is in the program: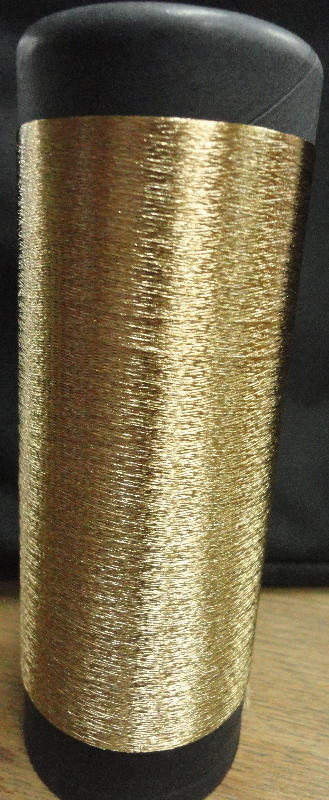 Plasma gold coated high bright
dtex 150 f 48 Z 60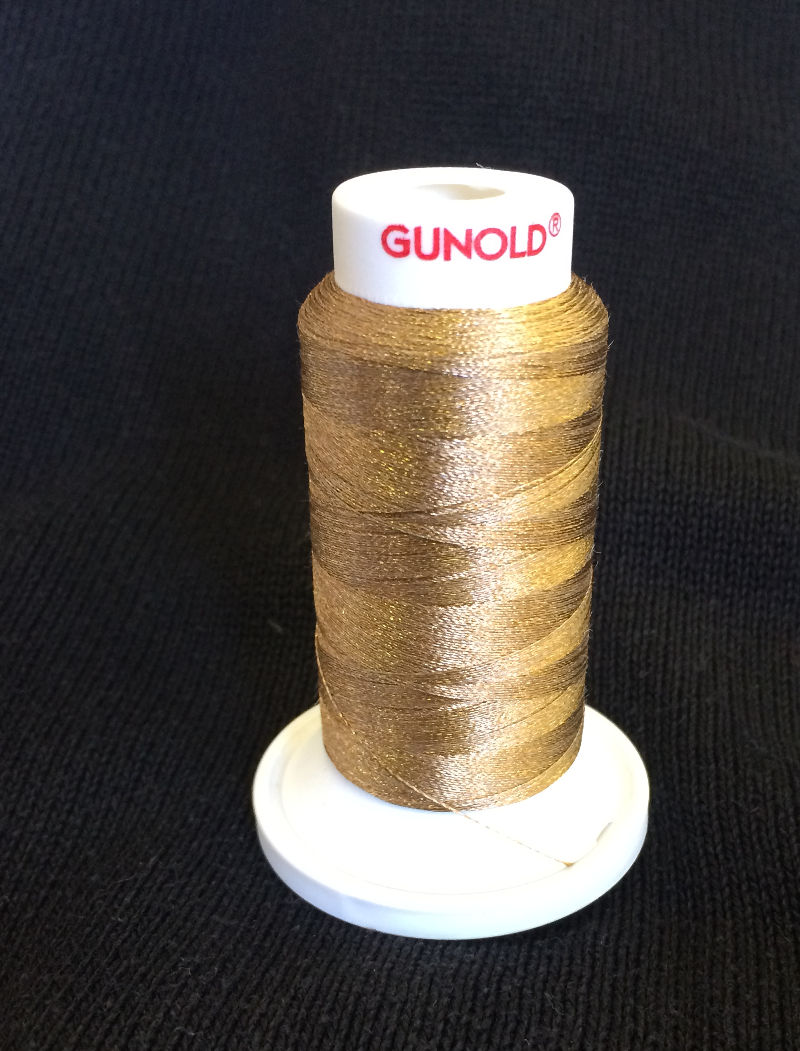 Plasma gold coated high bright
multiple head embroidery yarn No. 40
(dtex 125 f 36 x2)
Plasma gold coated yarns on any multi- or monofilament substrate



Precious metals have always been of great interest to mankind. Imagine what products one can develop if a precious metal like gold had the properties of a filament yarn! This is no longer fiction - it is possible. Tersuisse - our supplier partner for high tenacity polyester yarns - has acquired the patents and the prototype equipment of EMPA Switzerland for plasma coating filament yarns with any metal.
End uses? Just a few ideas:
Fabrics for decoration, home furnishing, medical, engineering, jewellery, computing, electronic components, watches....
Why plasma gold coated?
Coating a filament yarn by the plasma coating method gives much better wear, it is a perfect level coating, little to no conductivity fluctuation, is easy to process in the textile chain and products on the fashion side have a wonderful noble appearance. Interested?
Below is a report in the local newspaper 12.08.13
(German) please click on images below: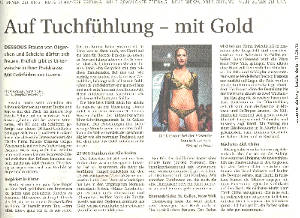 and here the Swiss "Blick" article 13.08.13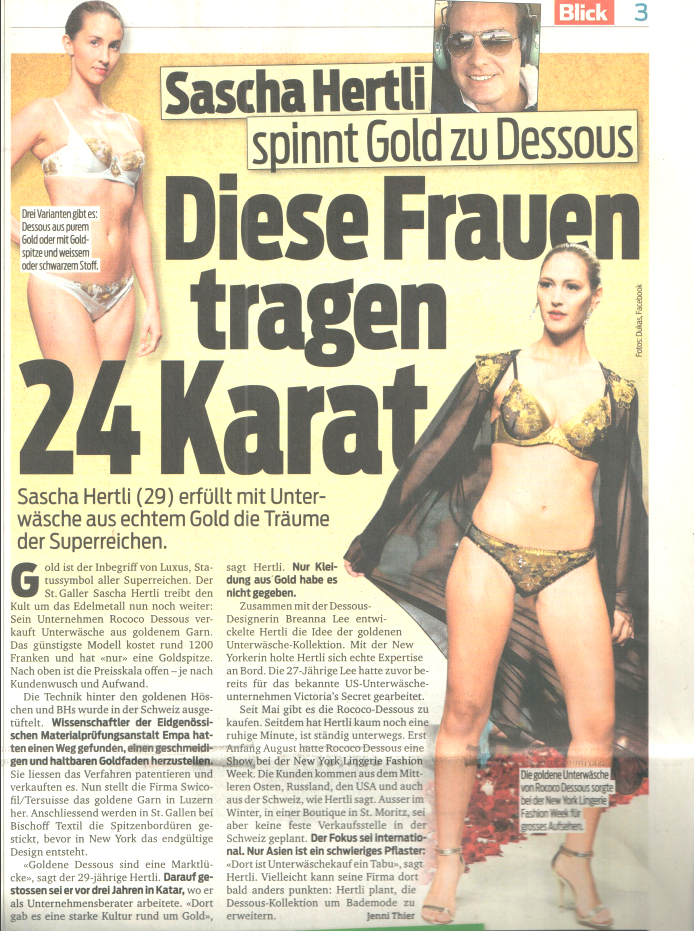 Rococo Dessous 24 Karat Gold Lingerie at LingerieFW SS14
www.youtube.com
Application ideas:
| | | | |
| --- | --- | --- | --- |
| Fabrics for decoration | high end fashion | luxury menswear in pin stripes | sewing and embroidery threads |
| fabrics for clerical applications | home furnishing | carpets | medical end uses |
| engineering as ESD applications | jewellery and watches | computing | electronic components |
| defense applications | body sensor systems | decoration elements in folklore dresses | |
SWICOGOLD yarn is the only one in the world where 24K Gold is brought straight onto the base yarn. There is no silver and no copper layer underneath the gold!
This is a huge advantage for demanding applications. The final product is EASY CARE - it can be washed without the big problem which all other Gold coated yarns have with the silver or copper underneath oxidizing through the Gold coating!!!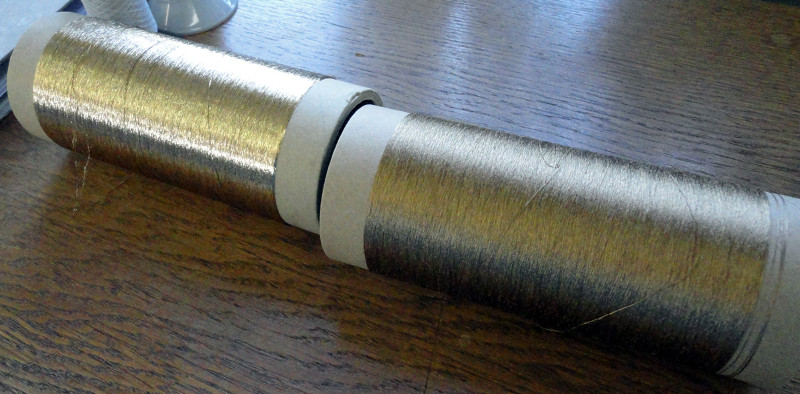 High brightness plasma Gold coated Filament yarn dtex 168 f 24 for hand embroidery (in comparison to standard quality - on the right)
Plasma coated yarns - other metals
Tersuisse is in a position to metallize most continuous filament yarns in a new process called plasma metal coating, be it mono- or multifilaments. The metals and alloys which we have done so far are:
gold

silver

aluminum

inox 316L

copper

brass

titanium

chromium
In other metals there is no experience for the time being. The technicians believe that a nickel plasma coating should be possible too but it has to be re-confirmed with trials.
Gold yarn - customer reference products pleas click on pictures below for a bigger one
Aussiebum - mens underwear
Jakob Schläpfer


The same yarn as above in weft on a black silk warp

Heimgartner - Soie et toi
Video

MP4 film
| | | |
| --- | --- | --- |
| Health sensoring belt | | |
| | | |
Embroidery yarn stress tests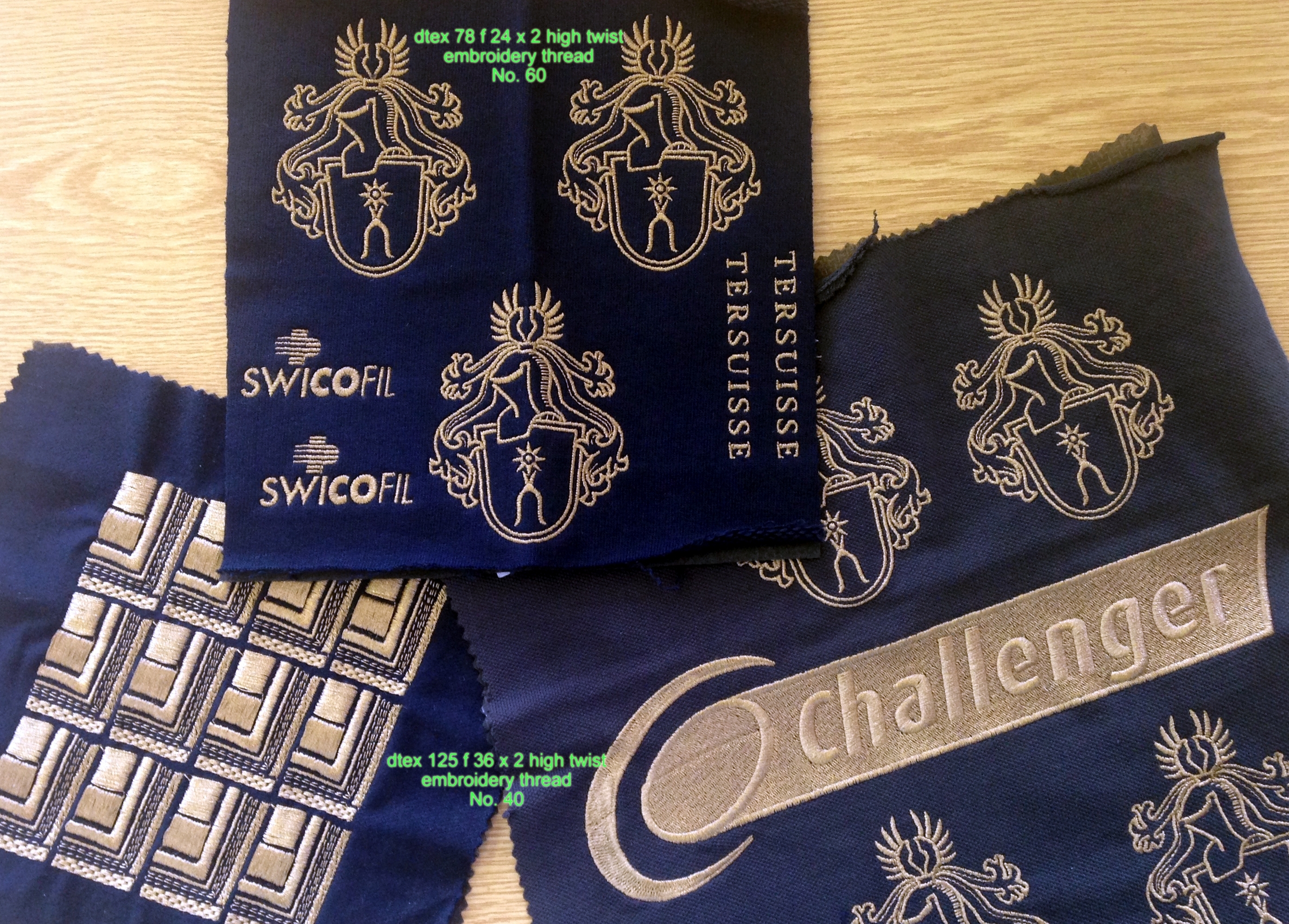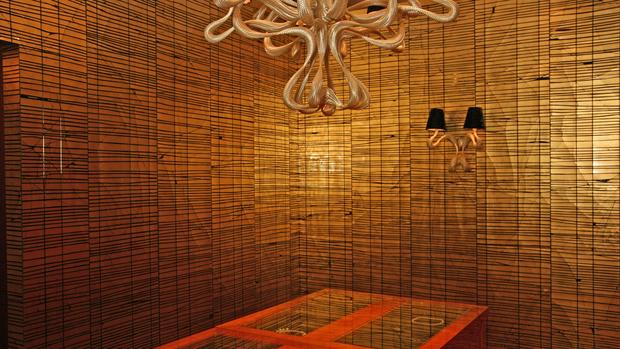 Return of the Gold in interior design.

Our 24 K plasma gold coated yarns are a perfect fit to this latest trend!

.

Welcome to the world of gold coated textile filament yarns.

Inquiries for plasma metal coated yarns - please use the checklist here and send it completely filled in to us by email.

Our customer Forster Rohner has been awarded the Techtextil Innovation Award 2015. "Embroidered Electrode with Silver/Titanium Coating for Long-Term ECG Monitoring" with projekt number TTA-2015-008 was chosen as one of totally 8 prizes in the category "New product"