filaments


| | |
| --- | --- |
| We give materials high gloss | |
Under the name filaments we produce cellulose monofilaments for brushes industry based on technology.
Trendsetting technology
By adding organic or inorganic additives the filaments obtain additional functions thus offering versatile possibilities of application. Combinations of different additives are possible too. filaments high temperature resistance (short-time up to 175º C) is only one advantage of this fascinating material. Cellulose disintegrates residual-free thus keeping the abrasive fully effective at all times. Manufactured from renewable resources, biologically degradable and thus ecologically valuable makes filaments the fill material of the future.
Versatile fields of application
filaments with diamond powder: Diamond powder treated, the filament represents an extremely hard tool. Polishing, grinding or deburring of the hardest materials hard metal, ceramics or sapphire thus becomes child's play.
filaments with silicon carbide: In combination with silicon carbide, the filament develops features that perfectly suit polishing, grinding or all metallic or non-metallic materials.
filaments with silver ions: By adding sliver ions, the filament develops an antibacterial effectiveness. With no chemical additives added, «hygiene» arises as a new field of application for the brush industry.
filaments with seaweed powder: New manufacturing processes make the filament the ideal material for wellness and health products. While brush massaging, valuable minerals that tend to the skin are released.
Product idea: sauna brush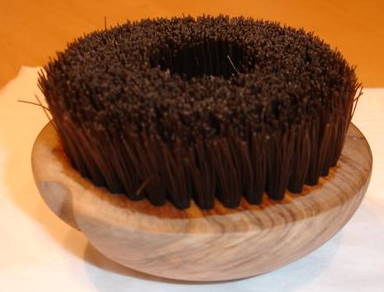 If you are able to purchase the minimum of 100 brushes or if you know a company interested in becoming the distributor in your country please let us know through our inquiry form
filaments with carbon: Incorporating carbon, the filament obtains high conductivity. Thus the products are suited for discharging electrostatic charge.
Customer specific products
In addition to these standard type products, we welcome the development of customer specific filaments. We develop custom-made features according to your specific requirements and fields of application.
Fields of application:
Watch making and jewellery industry
material processing.
Exclusive partner of filament:
Zeintra AG
Technische Bürsten
Feldstrasse 4 CH-9500 Wil
Phone: +41 (0)71 913 90 30
Fax: +41 (0)71 913 90 20
Email: info@zeintra.ch
---
technology
the intelligent world of smart polymers directly to your business.
We combine our unique, self developed functional fiber with various different functional polymers to manufacture products with out-of-the-ordinary and astonishing properties. The functional fiber is made from cellulose using a modified ALCERU® production process*. Both the biogenetic raw material and the production process are environment-friendly, and the fibers are biodegradable. The ALCERU ® technology is the result of scientific research and development by the Thüringische Institut für Textil- und Kunststoff-Forschung (Thüringen Institute for Textile and Plastics Research - TITK) in Rudolstadt. This innovation combines the familiar advantages of cellulose fibers, such as wearing comfort and optimal moisture absorption, with functional properties such as bioactivity and comfortable temperature adjustment. Overall, functional fiber is characterized by high ecological quality and resource conservation, excellent suitability for textile processing, wide versatility in application and high efficiency combined with an extremely good cost/performance ratio.
*The ALCERU® process is a protected registered trademark of the Thüringen Institute for Textile and Plastics Research (TITK) and is the name of an original and patented manufacturing process. For further information on the ALCERU® process please refer to the website www.titk.de .
production process
To manufacture functional fiber, amine oxides and water are used to separate the cellulose directly and without chemical modification, and the textile fibers are then produced in a spinning process. The ability to mix organic and inorganic additives homogeneously into the fibers makes it possible to produce various functional materials on this common cellulose base.
discover the world of intelligent fibers.