clima


| | |
| --- | --- |
| Air conditioning for the body | |
clima fiber does no longer exist at Smartfiber. It is now produced under the guidance of TITK. A new page will be created. Inquiries for this fiber and yarns can be directed to Swicofil.
Functionality
technology creates a "micro heat accumulator" with an extraordinary potential.
clima fiber is a PCM (Phase Change Material) micro composite of the latest manufacturing generation with thermo regulating features. It is an essential technological and functional improvement in comparison to the classic phase change materials. Via direct spinning paraffin is embedded in highly crystalline and tear-resistant functional fibers during this patent pending process. Thus unequaled many micro composite accumulators per unit of cellulose can be processed, to the effect that with comparable textile features greater heat accumulator capacity can be achieved.
Textiles manufactured on the basis of clima can absorb excessive body heat if required and dispense it later when one is in a colder environment. Thus temperature regulation is assured, providing extraordinary wearing comfort and excellent micro climate.
clima provides high heat absorption (up to 60 joules per gram of fiber). Depending on the choice of paraffin, the temperature of heat absorption or heat dissipation can be adjusted according to the application. Thus stable temperatures can be achieved within a specific time period.
Additional features
clima provides excellent textile manufacturing and consistent colorabillity. Even with high filling grades the surface of the fiber remains smooth, with a classic finish and great processability. This provides fiber fineness and makes the fiber insensitive to mechanical and chemical forces. All of this provides functional permanence and allows washing of fibers and textiles.
Range of application
In all places where comfort and regulating one`s climate is desired:
| | | |
| --- | --- | --- |
| Bedding and sleep comfort | Socks | Workwear |
| Home textiles | Underwear | Sports apparel |
| Military clothing | Bed linen | Blankets |
| T-Shirts | mattress fillings | Hospital textiles |
| Baby wear | rescue service blankets | automotive industry. |
| Cushions | Horse covers | |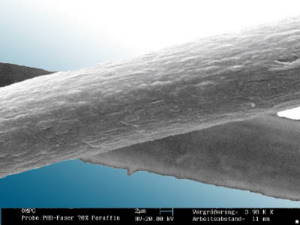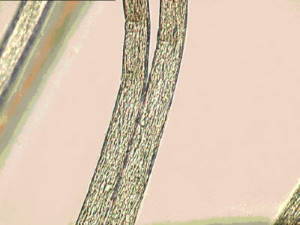 Fiber composition (mass percentage) in air-conditioned state
| | |
| --- | --- |
| Material | Value |
| Cellulose | > 47% |
| Active component paraffin | >33% |
| Minerals | ca. 7% |
| Silicon processing agent | < 2 % |
| Humidity | < 12% |
Textile-physical fiber characteristics
Characteristics
Unit
Data*
Yarn count
dtex
3,73
Tear resistance
cN
6,5
Tear resistance-V
%
13,8
Elongation
%
14,6
Initial module
cN/tex
310,0
Tear resistance (based on yarn count)
cN/tex
17,5
* Data changes with yarn count of fiber
yarn count 1,7-6,7 dtex
cutting length 38-120 mm
colorability - colorable in a tones
phase change temperature at heat absorption 25-35°C
clima download PDF file
Please click on following link to download leaflet.
---
technology
smartfiber brings the intelligent world of smart polymers directly to your business.
We combine our unique, self developed functional fiber with various different functional polymers to manufacture products with out-of-the-ordinary and astonishing properties. The functional fiber is made from cellulose using a modified ALCERU® production process*. Both the biogenetic raw material and the production process are environment-friendly, and the fibers are biodegradable. The ALCERU ® technology is the result of scientific research and development by the Thüringische Institut für Textil- und Kunststoff-Forschung (Thüringen Institute for Textile and Plastics Research - TITK) in Rudolstadt. This innovation combines the familiar advantages of cellulose fibers, such as wearing comfort and optimal moisture absorption, with functional properties such as bioactivity and comfortable temperature adjustment. Overall, functional fiber is characterized by high ecological quality and resource conservation, excellent suitability for textile processing, wide versatility in application and high efficiency combined with an extremely good cost/performance ratio.
*The ALCERU® process is a protected registered trademark of the Thüringen Institute for Textile and Plastics Research (TITK) and is the name of an original and patented manufacturing process. For further information on the ALCERU® process please refer to the website www.titk.de .
production process
To manufacture functional fiber, amine oxides and water are used to separate the cellulose directly and without chemical modification, and the textile fibers are then produced in a spinning process. The ability to mix organic and inorganic additives homogeneously into the fibers makes it possible to produce various functional materials on this common cellulose base.
discover the world of intelligent fibers.