Innovative conductivity solutions to boost your textile and industrial product's performance


Solving conductivity issues in textile products with conductive speciality yarns and monofilaments
There are occasions where the quality of your newly created product could get a real boost and advantage over your competitors if this product had the capability to lead away electrostatic charges. This ability would solve a lot of static charges problems and does allow you to design innovative new solutions to the ever changing market demands.
Synthetic conductive filament yarns
Whatever your production process, your equipment, the strains they represent, we are able to offer you the adapted solution to implement its antistatic (and antibacterial) fibres. In addition to the cut staple fibre, the slivers, the roving or other spun yarns our supplier partner offers now a wide range of continuous filaments too.
---
Other conductive yarns possibilities are:
Fine Inox wire

This fine Inox wire is available in a mixture with polyvinyl alcohol PVA in a count of 560 dtex. The PVA yarn is wrapped around the Inox to enable a good workability. In the finishing process the PVA part is dissolved and as a result one gets a 100% Inox fabric / product.

Great advantage of Inox is that it does not rust



Silver coated polyester mono- or multifilament

This is the latest technology product from our partner TERSUISSE who is able to plasma coat filament yarns.

These yarns are good for knitting, weaving, twisting, embroidering and braiding - they are resistant to washing.


Silver coated polyamide 6 or 6.6 mono- and multifilament

In different counts we can provide you a PA 6.6 or PA 6 mono- and multifilament yarns which are coated with pure silver. These products have an excellent conductivity of < 100 Ohm
PA 6.6

silver

Physical data:

specific gravity:

solubility in water:

reactivity in water:

appearance + odour:


melting point:

10.4


insoluble


none


grey metallic, no odour

966°C

Metallization:

The monofilament is completely coated with pure silver. The adhesion is extraordinary well – the silver is rooted in the substrate.

Mechanical:

Metallization of the material does not change original properties of the polyamide like extensibility, break strength etc. Silver coated monofilaments can be processed like any normal PA monofilament

Electrical:

Depending on the fiber diameter values of < 100 ohm of electrical conductivity are measured.
---
Clacarbo
Kuraray Clacarbo is a high performance, excellent conductive fiber developed from Kuraray conjugate technology.

Blending just a small amount of Clacarbo will prevent static problems like

(1) static shocks you experience when walking on carpets and touching door knobs, or getting out of cars,

(2)clinging of clothing to your body, and

(3)attracting of dust and soil.
For more detailed information on Clacarbo please follow this link
We are also in a position to offer mixed yarns of Polyester multifilament yarn with intermingled Clacarbo components. In this way it is possible to strengthen the yarn for easy weaving - possible for warp and for weft - to suit your requirements and to ensure an excellent runability of the yarn.
Please note that all these yarns are never produced on stock - only on specific demand. Minimum order is 100 bobbins = abt. 120 kgs.
For more details please contact us.
---


Shielding and conductive yarns
Offering shielding and conductive filament yarns which are engineered to run well in weaving warp and weft. The flexibility to produce well performing yarns for your application makes BEAG to a world leader in shielding and hi-tech yarns.
Polyester with Kuraray Clacarbo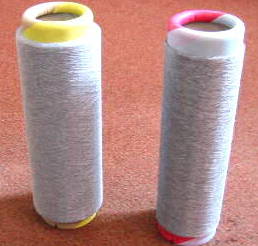 Intimate mixtures of polyester filament yarns with Kuraray Clacarbo products in counts from dtex 50 up to dtex 610. The polyester provides the textile properties according to your final product requirements and the Kuraray Clacarbo component the necessary conductivity or shielding performance.
Polyester filament with Copper monofilament
Intimate mixtures of polyester filament yarns with highly conductive copper monofilaments which may be coated with silver or polyurethane products in counts from dtex 50 up to dtex 610. The polyester provides the textile properties according to your final product requirements and the copper monofilament component the necessary conductivity or shielding performance.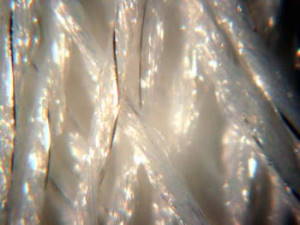 Here are a few application ideas of BEAG conductive yarns:
lining fabric (for bags of sensitive electronic equipment or in jackets for people with heart pace makers)

underwear

outerwear

shirting, blouses

protection suits (for maintenance staff in HF environment)

tents (for military applications and anti-bomb squads)

tarpaulin fabric (for house roofs and wall coverings)

curtains (as protection against electromagnetic fields or interferences in offices, homes, hospitals etc)

data transfer fabrics
We are able to tailor the yarn exactly to your products needs. Please let us know what performance you require.

Swicofil is your partner to help you improving your textile and industrial textile product performance, to find new solutions for existing products, to explore new product design possibilities.

Long term experience in the field of synthetic and natural yarns and fibers enables us to guide you in the right direction. Knowing well the properties and performance of all the yarns and fibers and after many years of excellent contacts with the synthetic and natural fiber producers we are confident to be able to assist you.

.