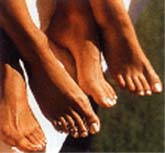 In co-operation with our Japanese supplier we were in a position to contribute to a solution of this and other similar "bad smell" problems. The supplier has stopped to work and therefore we strongly recommend the alternative smartcel bioactive
Socks containing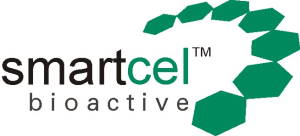 do solve your problems with smelly feet
We do sell in bulk only - pallet load is minimum
Most shoes do have a woven label inside. If this label is produced with smartcel bioactive fiber in the yarn on back side of label or if such a sewing thread is used in a piece of fabric then bad odor will disappear.
Face of label
Reverse of label containing smartcel bioactive fiber in the yarn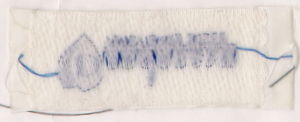 A similar yarn can also be used for curtains, upholstery etc either as sewing thread or as yarn incorporated into the fabric. About 100 meters of this thread can kill bad odor in the area of abt. 10 square meters. If this thread is used in flat and wide finished products such as curtains, rugs, towels, woven tape in sports caps, pillow covers, bags, bed pads etc the effectiveness in wide areas will be much higher.
It is very effective in eliminating bad smell from ammonia and tri-methylamine which might originate from sweat, body odor, urine, rotten food, protein decomposition and garbage smells. It is very safe for all human beings in every respect.
Below comments refer to the Japanese Epochal anti odor yarn which is no longer available. We still keep this text here as piece of information. Our smartcel bioactive fiber have similar effects.
Technical remarks
Odor killing effect is long lasting (lifetime of fiber)

About 7 meters of this yarn can kill odor of one armpit

Standard color of this yarn is rawwhite

Anti-odor yarns & threads are not harmful & not dangerous to human bodies
---
Supplier partner