Acetate filament yarns from Swicofil


Acetate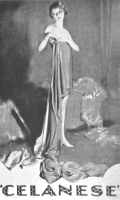 Introduction
History:
Although cellulose acetate was first prepared in 1865 by the French chemist Paul Schützenberger, it was not until 1894 that the first industrial process for its manufacture was patented in the UK by Charles Cross and Edward Bevan. At about the same time, Little in the US made cellulose acetate filaments experimentally, as did Bronnert in Germany. However, this material was essentially cellulose triacetate, a rather intractable polymer, not readily soluble in commonly available solvents. In 1904 George Miles, an American chemist, discovered that if the polymer was partially hydrolyzed, it became soluble in acetone.

Two Swiss brothers, Drs. Camille and Henri Dreyfus, began chemical research in a shed behind their father's house in Basel, Switzerland. In 1905, Camille and Henri developed a commercial process to manufacture cellulose acetate, a compound that seemed to offer a broad and untapped commercial potential. The Dreyfus brothers initially focused on cellulose acetate film, which was then widely used in celluloid plastics and motion picture film. By 1913, Camille and Henri's studies and experiments had produced excellent laboratory samples of continuous filament acetate yarn. In 1924, the first commercial acetate filament was spun in the United States and trademarked "Celanese."

After the war they concentrated their efforts in England, and in 1919 introduced the first acetate yarn Celanese. In 1924, they switched entirely to the US where acetone and acetic anhydride were cheaply available. In the same year, rayon became adopted as a generic term for all 'artificial silk'.

Basic Information:
Cellulose acetate is a man made fibre of natural origin with specific characteristics which allow the production of beautiful, practical and comfortable fabrics, whether used on its own or mixed with other natural, artificial or synthetic yarn or fibres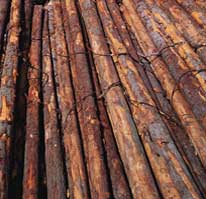 Acetate yarns were first to be used by the textile industry in the early 20's. Since then, acetate yarns have enjoyed a growth in all the fashion sectors.
Today acetate yarns continue to play an important role both in weaving and knitting. The characteristics of acetate yarns make it possible to meet the requirements of mass production items, such as linings, as well as the production on exclusive fabrics in the more demanding markets of "niche" products.
| | |
| --- | --- |
| Specific weight | |
| Tenacity | |
| Water absorption | |
| Moisture regain | |
| Elongation | |
| Melting point | |
| Flammability UL94 | |
| Electrical Resistivity | |
| Solvents | |
| Decomposed by | |
| Combustion | |
| Permeability to gases | |
| Elastic modulus | |
Acetate Characteristics
Specific gravity of acetate/triacetate fibers is lighter than that of cotton, viscose, cupro ammonium rayon fibers and is nearly equal to that of wool fibers. Acetate/triacetate fibers have bulky fabric hand and rich feeling.
Filament yarns have luster and tactile feeling as silk fibers. In addition, they have an excellent color development.
Acetate/triacetate fibers have optimal moisture absorption, warmth retention and elasticity.
Acetate/triacetate fibers are used for pleat skirts thanks to the thermo-plasticity.
Among others, acetate yarns give to their fabrics the following characteristics:

Natural luxury
Silky feel
Comfort
Elegant drape
Breathability
Hypoallergenic
Biodegradable
Colour fastness and brightness
Cross dyeing capacity
Dimensional stability
Applications
FOR CLOTHING
Women's Formal Wear
Women's Nightgowns
Coats
Accessories for Japanese Dresses
Neckties
Blouses
Sweaters
Scarves, etc.
FOR HOME FURNISHINGS AND BEDDING]
Blankets
Bedclothes
Fabrics for Curtains, etc.
FOR OTHER USES
Umbrellas
Cigarette Filters, etc
General Acetate Fiber Care Tips
Care should be taken to use chemical solvents such as acetone and thinner in stain removal, because acetate/triacetate fibers may be dissolved in these solvents..
Grades

new shade in blue:
Atlantico in spundyed acetate dtex 167
Processability
Acetate filament yarns are referred to as "Fibers of Beauty", because they have luster and tactile feeling as silk fibers. The quantity of production in Japan is not so large, but in the U.S.A., a large quantities of acetate filament yarns are used for apparel manufacturing. Acetate filament yarns are same as rayon fibers in those points that pulp is used as main raw material. However acetic acid is reacted chemically, thus, acetate filament yarns have characteristics of both vegetable fibers and synthetic fibers.
Acetate fibers are frequently used for women's dresses and exhibits their beauty in the form of women's formal wear, suits, coats or knitwear.
Acetate (staple tow) is used for almost all cigarette filters.
Triacetate fibers are fibers to which more acetic acid is combined than to acetate fibers.