Healthy comfortable and hazardless textile fiber products from soybean protein


Soybean protein fiber
Introduction
Soybean Protein Fiber or SPF is the only renewable botanic protein fiber we can touch today. SPF is a unique Active Fiber. Its 16 amino acids are healthy and nutritional to people's skin. Its moisture absorption, ventilation, draping and warmth cover the superior performances of natural fibers and synthetic ones.
SPF has the softness and smoothness of cashmere, but doesn't cause hazard to the environment. Its products are degradable by landfill back to the earth. This fiber comes from soybean, a plant massive in sourcing and rich in nutrition. People usually eat soybean but now are able to wear it.
Soybean Protein Fiber is the only botanic protein fiber in the world, a newly born guard to mankind's skin. You will never have felt such softness, comfort and smoothness before; it is a feeling like "skin on skin". It is an active fiber, a new green textile fiber, and it possesses the superiorities of many natural fibers and synthesized ones.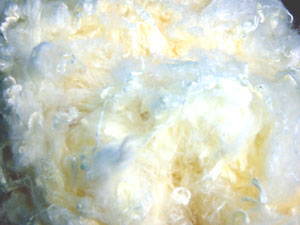 Soybean Protein Fiber is an advanced textile fiber. It is made from the Soybean cake after oiling by new bioengineering technology. Firstly, the spherical protein is distilled from the soybean cake and refined. Secondly, under the functioning of auxiliary agent and biological enzyme, the space structure of spherical protein changes, and then protein spinning liquid is confected by adding high polymers, and then thirdly, after the liquid is cooked, the 0.9~3.0dtex fiber is produced by wet spinning, and stabilized by acetalizing, and finally cut into short staples after curling and thermoforming.
Soybean protein fiber is praised as the health, comfortable and green fiber of the new century. Its major material is soybean protein from the farmers, massive in quantity and inexpensive in price, and using it will not cause the predatory development on the resources but is helpful to resources' recovery and redevelopment. The production of soybean protein fiber will not bring pollution to the environment, as the accessory and auxiliary agent used are not poisonous, while the residue after the protein extracted can be still used as feed. Soybean Protein Fiber has not only the superiorities of the natural fibers but also the physical properties of synthetic ones. Soybean protein fiber meets the people's demand of comfortable and beautiful wearing and also conforms to the trend of easy care. It is the potential material for middle and high class clothing in textile industry.
Wearing Values
Cashmere-like handle: soft and smooth, soft and natural luster, good draping property
Dry and comfort: excellent moisture absorption and air perviousness
Good color fastness: good acid, alkali and ultraviolet resistance, color is natural and soft
Natural bacteria resistance: bacteria resistant elements are integrated in fiber's molecule chain, which makes the fabrics keep the property of resisting coli bacillus, staphylococcus aureus and candida albicans permanently.
Nursing the skin: Compared to animal protein, plant protein could be absorbed by human body more easily without side effect. From nutriology aspect, evaluation could be made: this exclusive plant protein fiber possesses health care and nursing function while others do not have. While contacting the skin, Amino acid in soybean protein could activate skin protein, restrain coquettish and coruscate the energy of skin. It is very comfortable for people to wear apparels from this fiber, just like a second skin so that they even don't want to change their clothes.
For more information on the properties please visit the properties page or the test results.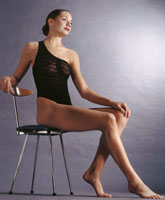 Applications

Apparel: The body-revising underwear, made from soybean protein fiber and spandex, has incomparable and unimaginable softness and comfortableness. Not only does this underwear revise people's figure, but also can people's skin enjoy the pleasing breath, easy stretch and fine caring, especially the "skin on skin" feeling.

Bedding
Soft and cool luxurious bed linen made from SPF fiber



T-Shirts
The T-shirts are made from blends of soybean protein fiber, natural bamboo fiber and silk, the former 2 fibers are invented only in China.



The products have following features:

1. Coolness
Bamboo fiber is the only natural cool fiber in the world timely. With extremely good ventilation, bamboo fiber is the best choice for summer apparels.

2. Comfortable
The cashmere-like smoothness of soybean protein fiber, the coolness and crispness of bamboo fiber, their feeling to skin is a non-experienced comfortableness.

3. Health Care
The amino acids and Isoflavones of soybean protein fiber, the bamboo honey and pectin are all elements beneficial to skin caring. They have also functions of antibacterial and anti-ultraviolet.

4. Mechanical property
Machine wash is applicable, while ironing is unnecessary to these T-shirts.

Pullovers and sweaters





Underwear




Grades

Processability

The Dyeing and Finishing of Soybean Protein Fiber Product

Soybean protein fiber (SPF) has different physical and chemical construction from natural protein fiber, we must take care of the pretreatment, we must be very careful in the process of pretreatment, dyeing and finishing, keep the style and character of SPF you try your best to embody the high quality of it. During the production process you select fit equipment and proper settings.

I. The Pretreatment

De-sizing
Pretreatment of SPF or yarn made from SPF is very simple. We use scouring and bleaching : it can remove oil, lubricants and pigments and other additives which are added in the production process.

Woven fabric, knitting (including all kinds of blended SPF with other fiber), one should select different equipment and settings

All fabrics (woven fabric and knitting) need desizing - it can be done with enzyme de-sizing, alkali or oxidant de-sizing . Mercerization is forbidden because SPF is unable to bear the strong caustic soda.

Enzyme de-sizing :
- BF7658 amylase: 2-6g/L
- Glauber's salt: 2-3g/L
- Penetrating agents: 1 g/L
- Temperature 55-60 degr C
- Heat-preserving time: 60 minutes

SPF blends containing different fibers the de-sizing process is very different. one should consider the other fibers characteristics and adjust the settings accordingly. De-sizing process must be appropriate for both fibers.

Scouring and bleaching
The natural color of SPF is curcuma - it is difficult to remove SPF's pigment - therefore one should bleach it. According to color, you can use Hydrogen peroxide bleaching, reduction bleaching, or Hydrogen peroxide bleaching and reduction bleaching. If you need very light color you may have to use whitening agents (whitened SPF fabric is never completely white as e.g.. bleached cotton fabric - it is still a little yellow)

Bleaching
3.1 Hydrogen peroxide bleaching ( middle or deep color) ¡¡

Recipe:
- Hydrogen peroxide: 20-40 g/L
- Sodium carbonate: 3-5 g/L
- Proficiency agent: 2-3 g/L
- Sodium silicate stabilizer: 3-8 g/L
- pH degree:11
- Bleaching temperature: 92-95 degr C
- Heat preservation time 60-80 minutes


3.2 Reduction agent bleaching

Recipe
- Rongalite: 3-8 g/L
- Sodium carbonate: 2-4 g/L
- Scouring agents: 1-2 g/L
- pH degree:11
- Bleaching temperature: 92-95 degr C
- Heat-preserving time 60-80 minute

If you need a medium or light color you should use Hydrogen peroxide bleaching and reduction bleaching, wash clearly after Hydrogen peroxide Hydrogen peroxide agent and reducing agent. In bleaching , then use reduction bleaching.


3.3 whitening
Dyeing Very light color, you should use whitening after Hydrogen peroxide bleaching and reduction bleaching.

Recipe
- Brightener 0.3-0.8 g/L
- Glauber's salt 5-15 g/L
- Whitening temperature 70-80 degr C
- Heat preservation time not less than 30 minute


3.4 The comparison of several brightener
Brightener recommendation:
- Korea 4BK.
- Guangdong China CBN-20
- Shanghai daxiang PAB.DM
- Reference: BW-O2A, CPD, PA2B, Shanghai Daxiang BYB. BY.
- Note: VBL.DT is not fit to whiten SPF.


Bleaching method
Including fiber bleaching, top bleaching, yarn bleaching (hank yarn bleaching, cheese bleaching), fabric bleaching, according to different product condition and the requirements we use different methods. It is highly recommended to carry out a small test before your mass Production. Above all recommendations and processes are for your general guidance only.

Hank Yarn Bleaching:
yarn surface is easy to become disordered.

Cheese Bleaching:
The surface is bright and clear, efficient, but you must care for elasticity of cheese. If winding is too tight, the dye-solution is hard to penetrate (the shrinkage of soybean yarn is about 7% during process), or the result in the whiteness degree or dyeing will not be level. If it is too loosely wound the dye liquor can easily penetrate, the whiteness degree is very consistent and level. Same with dyeing. The elasticity of the cheese is very important, directly affect bleaching and dyeing quality.

Moreover, if bleaching temperature is too high, it will influence resilience. The fiber will lose resilience so that hand feeling becomes rigid if the bleaching temperature exceeds 95 degr C



Pretreatment of fabrics containing SPF and blends with wool, cashmere
Pretreatment of blended fabric need to protect both fibers, and avoid potential damage. Only then wool fiber will develop flexibility, and develop the soybean soft hand feeling and elegant outstanding luster at the same time. soybean fiber can bear alkaline better than wool, if pH exceed 8, temperature above 80 degr C, wool fiber will turn yellow ,and drop tenacity.

But soybean fiber has pigment, that is difficult to be removed. One has to keep it in pH 9.5~10.5, temperature 90 - 95 degr C, and then you can acquire ideal whiteness degree. To solve this conflict, we suggest: :

1) You must use separately pretreatment and bleaching (dyeing) on Soybean fiber, wool fiber, or top, yarn, then blending or color weaving.

2) During the pretreatment and bleaching ,
Firstly you must consider to insure reducing harm of wool fiber, and develop the good function of two fibers, scouring( the temperature is lower than 45 ¡æs,30 minutes): crabbing( the temperature is lower than 85 degr C, pH 6.5s, pressure are slightly higher); The bleaching craft remove the pigment of soybean fiber, and we recommend to use Hydrogen peroxide bleaching , adopt England the low temperature Hydrogen peroxide activator TAED, and process is in the temperature 70~75 deg C in weak alkali bleaching, attain currently white degree.


Pretreatment of SPF and silk intertexture
The key problem of pretreatment is to remove impurities, such as the sericin etc, and increasing the white degree of soybean fiber, you should notice the hair like surface , that influence surface brightness and beauty. We Can use the alkaline Proteolytic enzyme.

Tinogym WSL¨Ciba Specialty Chemicals Inc.£©:0.5-1g/L
PH degree:9-9.5 (adjusted with alkali)
Temperature 55 degr C
Time: 45 minutes

Note:
Removing sericin with Proteolytic enzyme before scouring and bleaching.
- Hydrogen peroxide: 5-6 g/L
- BAC (Stabilizer): 2 g/L
- Wetting Penetrating agents: LUN 1 g/L
- pH degree: 8-9 (adjusting with sodium carbonate )
- Temperature: 90 degr C
- Time: 45-60 minutes

Process:
A. gray goods ----pretreatment, alkaline Proteolytic enzyme , removing sericin ---- scouring and bleaching----- whitening----pressing water ----- dyeing- --softening .

B. gray goods---- alkaline and Hydrogen peroxide bleaching , removing sericin---washing----reduction bleaching---whitening--pressing water ----dyeing---finishing
¡¡¡¡Singeing, you should use light singeing with high operating speed , and you must adjust the distance of fire mouth and fabric , we suggest you use top end of white fire.

Background information

Characters of Fabrics from SPF and Its Blends

| | |
| --- | --- |
| 1). | Fabric from pure soybean protein fiber: its color is natural and pure with abundant fluff on the surface without pilling, excellent hand and drape and softness. |

2).
Fabric from soybean protein fiber blended with cashmere: soybean protein staple has abundant fluffs similar to the feeling of cashmere. Blended with cashmere fiber, soybean protein fiber can process not only the natural softness and puff feeling of cashmere, but also the properties of smooth, intimacy to skin, easy care and best cost/performance balance.

Suitable for cashmere sweater, shawl and coat.

3).
Fabric from soybean protein fiber blended with mercerized wool: it is a kind of knit fabric quite similar to that of cashmere with color more abundant and better mercerized effect. As its shrinkage is less, it is easier to wash and preserve.

Suitable for wool sweater, interlock underwear and blanket

4).
Fabric from soybean protein fiber blended with silk: It has not only luster and elegance of silk but also a good draping. At the same time, it has gotten rid of silk's inferiorities easy sweat staining and sticky to skin being wet.

Suitable for printing silk, knitting underwear, sleepwear, shirts and evening dress

5).
Fabric from soybean protein fiber blended with combed cotton: compared to cotton fabrics, it has softer hand, better moisture absorption and ventilation, better bacteria resistance, more comfort for wearing.

Suitable for men's and women's underwear, t-shirt, infant's wear, towel and beddings

| | |
| --- | --- |
| 6). | Fabric from soybean protein fiber blended with elastic fiber: Adding a small portion of elastic fiber makes fabrics more elastic and easier for washing and caring. It is quite active and charming. |

7).
Fabric from soybean protein fiber blended with polyester and other synthetic fibers: The blends raise the properties of comfort, beauty and wrinkling resistance.

Suitable for spring and summer fashion apparels, underwear, shirt and sportswear