Banana fibers


Banana
Introduction
Bananas and plantains (Musa spp.) are important crops within the global fruit industry. They are cultivated in over 120 countries, over an area of 10 million hectares, with an annual production of 88 million metric tons.
The banana plant, often erroneously referred to as a "tree", is a large herb, with succulent, very juicy stem (properly "pseudostem") which is a cylinder of leaf-petiole sheaths, reaching a height of 20 to 25 ft (6-7.5 m) and arising from a fleshy rhizome or corm. Suckers spring up around the main plant forming a clump or "stool'', the eldest sucker replacing the main plant when it fruits and dies, and this process of succession continues indefinitely. The fruit (technically a "berry") turns from deep-green to yellow or red, or, in some forms, green-and white-striped.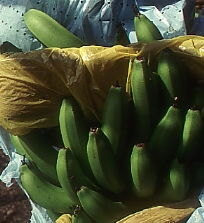 Many

Southeast Asian countries which plant banana have a large number of fleshy rhizome or banana bast which still is wasted.
---
Properties
Banana fibers are:
Ø a natural sorbent
Banana fibers in their natural state produce a highly sorbent material. The key factor is the high porosity and natural capillary action of the fiber, allowing it to absorb oil. Banana fiber is a super-sorbent, in that less fiber product is needed to remediate any spillage. Banana fibers can be used in sorbent socks, pillows and booms, or as loose fiber to clean up land-based spills.
Ø a base material for bioremediation and recycling
Organic contamination is frequently treated through 'bioremediation', a method that employs bacteria to 'eat' the contamination. In order for these bacteria to survive within the contaminated environment, they must be provided with a natural substrate material on which they will thrive. Banana fiber provides this medium and can be used in the remediation industry as a natural bioremediation agent.
Ø a natural water purifier
Banana fibers have already been tested for use as a filtration agent in the treatment of wastewater, which is often contaminated with oils and other organic materials. The natural affinity of banana fiber to oils and organics, and its tendency to repel water when oil loaded, makes it a good natural alternative filtration agent for industrial and municipal waste treatment.
Ø a base material for the paper and pulp industry
The use of banana pseudostem has been investigated for the production of craft cellulose, to be whitened for use in the manufacture of special paper used in the restoration of documents. The raw material used, at nearly 94% humidity, is obtained from commercial banana plantations. Paper made out of banana fiber is reported to be of high strength and is used to make tea bags and currency notes.
Ø a substrate in the mushroom industry
A study conducted at the Instructional Farm, Vellayani, India, regarding the suitability of banana pseudostem for mushroom cultivation, indicated that banana pseudostem alone and in combination with paddy straw produced comparatively higher mushroom yields than paddy straw alone.
Ø a rawmaterial in handicrafts and textiles
A variety of products have been made from banana fibers in the Philippines. The banana fibers were reported to be elegant and highly versatile. As they do not crumple easily, these fibers have been used in the manufacture of dress materials. The fineness of texture depends on the quality of the fiber used. The material has a beautiful sheen and is used for making wedding gowns and barongs. Hand-extracted fibers have been used to produce handbags, wall hangings, table mats and other fancy articles.

Banana fiber is classified as a hard fiber, based on the fact that it includes strands of whole vascular bundles, including xylem, phloem and true fibers. They have more lignified and rougher surface fibers than cotton and kapok and soft fibers such as flax, ramie, jute and hemp. The principal constituents of banana fiber are  cellulose (also called cellulose-1) intermingled with hemi-cellulose (polysaccharides) and lignin.
Banana as natural fiber made from bast has been used in Southeast Asian countries but most of these fiber were too thick to be used in textiles. Our banana fiber supplier partner is the first one in the world who is able to produce finer textile fibers. The average fiber fineness is 4 dtex and with this it is thinner than all other bast fibers.
The inherent drawback of banana fiber is its poor quality and higher irregularity, owing to the multi-cellular nature of the fibers. The individual cells are cemented with lignin and hemi-cellulose and thus form a composite fiber. Banana fiber is classified as medium quality fiber and performs very well in combination with other fibers for making fine articles like handicrafts, currency, etc.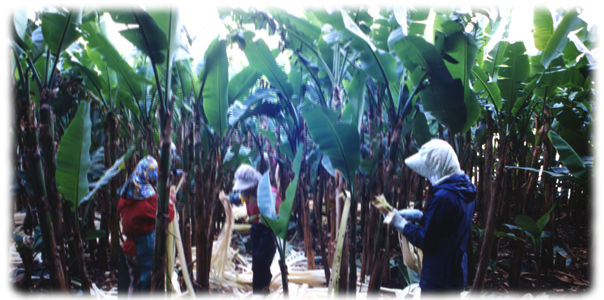 Banana fiber has a good luster and banana cloths have a good drape. Banana fiber cloths are very noble, fashionable, environment-friendly and healthy. Because of higher water absorption banana fiber clothing is very cool.

---
Applications
Each and every part of banana the plant is used for specific purposes. Apart from its use as a dessert fruit and for culinary purposes, the banana plant has multifaceted uses:

Ø the leaf is commonly used as a hygienic dining plate

Ø the male flower is a favourite vegetable

Ø the inner core of the pseudostem is a popular vegetable with many therapeutic uses

Ø the sap is used as an indelible ink in industry and

Ø the underground rhizome is exploited as animal feed in a composite mixture with other feedstuffs

The use of the spent banana plant (after harvesting the bunch) for fiber extraction has slowly gained recognition worldwide because of the uses of banana fiber in

Ø the paper and pulp industry

Ø as a natural water purifier

Ø for bioremediation and recycling

Ø for printing money

Ø in the textile industry as a base material for attractively patterned cloth:
- shirts
- bedding
- household textiles
- socks

Ø in small-scale art and handicraft industries and

Ø in the production of a wide range of goods, including
- rope cordage
- yarns
- abrasive backing paper
- tea bags and
- shoes.

Ø Because banana fiber is biodegradable, carrier bags made from it are an ideal alternative to polythene bags, which are fast becoming an environmental pollutant.

Our banana fiber yarn has two specs: ring spun yarn and open-end yarn.

Technical parameters of banana fiber:

- average fineness 2386 Nm
- average strength 3.93 cN / dtex
-

average length 50 ~ 60 mm (or cut to 38mm).

Banana fibers can be used for cotton spinning, OE-spinning, compact spinning and for other short-spinning systems. They can be used on bast fiber spinning systems (ramie, flax, hemp spinning), on silk spinning, woollen spinning, semi-worsted and worsted spinning systems.
Grades

fibers
tow/tops
BCF yarns
spun yarns

Bashofu = woven from basho (banana) fibers, is very light in weight and smooth to the touch.

Processability

We are in a position to provide you

Ø banana fibers for any spinning system or

Ø banana ring spun yarns from Ne 8/1 to Ne 40/1
in 100% or in blends with cotton, modal, Tencel or soy bean protein fiber

Ø banana fibers open-end spun yarns from Ne 8/1 to Ne 30/1
in 100% or in blends with cotton, modal, Tencel or soy bean protein fiber


Degumming the fibers by bio-enzyme - getting rid of pectin, lignin, cellulose, hemicellulose and then carding fiber and spinning the fiber on a bast spinning system.

Ecological value:
Natural resources are better used and involved peasant have more income. Using more banana fibers means that consumption of cotton or bast (ramie, flax, hemp) fibers will decrease and that we have more land for planting foodstuffs.

Background information

Botanical description

Plant: Plants are large, herbaceous monocots, reaching 25 ft in some cultivars. The "trunk" or pseudostem is not a true stem, but only the clustered, cylindrical aggregation of leaf stalk bases. Leaves are among the largest of all plants, becoming up to 9 ft long and 2 ft wide. There are 5-15 leaves on each plant. The perennial portion of the plant is the corm which may weigh several kilograms. It produces suckers, which are thinned to 2-3 per corm - one "parent" sucker for fruiting and one "follower" to take the place of the parent after it fruits and dies back. The vegetative apex spontaneously initiates a reproductive meristem after 40 leaves have been produced, usually 9 months after initiation of a sucker.

A banana plant bears fruit 10-12 months after planting; plantains take longer, 14-19 months, particularly in areas with cool winters. The life of a banana plantation is 25 years or longer, but individual "stools" are removed after production declines in 4-5 yr, which helps to control diseases as well. Fields are cleared, sometimes fumigated, then replanted with "bits" of new corms.

Flowers: The inflorescence is a spike originating from the tip of the corm. Initially, it appears above the last leaves in an upright position, and consists only of a large, purple, tapered bud. As this bud opens, the slim, white, tubular, toothed flowers are revealed, clustered in whorled double rows along the stalk, each cluster covered by a thick, waxy, hood-like bract. The bract lifts from the first hands in 3-10 days. Female flowers, with inferior ovaries, occupy the lower 5 to 15 rows on the stalk, with neuter or hermaphrodite flowers in the center, and males at the top. Male flowers and bracts are shed one day after opening, leaving the terminal potion of the stalk naked except for the large, purple, fleshy bud at the tip containing unopened male flowers (except Dwarf Cavendish - males persistent). The flower stalk begins to droop down under its own weight shortly after opening; the flowers are negatively geotropic, and turn upright during the first 10 weeks of growth.

Pollination: Bananas of the Cavendish group are triploids, and therefore completely sterile; fruit is set parthenocarpically. Traces of the undeveloped ovules are seen as brown specs in the center of the fruit. Floral morphology suggests that wild bananas are bat pollinated in their native range.

Fruit: an epigynous berry, fruit are borne in "hands" of up to 20 fruit, with 5-13 hands per spike. Fruit appear as angled, slender, green "fingers" during growth, reaching harvest maturity in 90-120 days after flower opening. The large, fleshy, terminal bud on the stalk may be removed if fruit set is high, to allow more complete filling of fruits (thinning) since this organ continues to grow throughout fruit development.

'Giant Cavendish' bunch = 110 lbs @ 363 marketable fruits.
'Gros Michel' - produces 3-7 tons/acre/yr in Central America.
'Maricongo' - high density plantings (5x5 ft) produce 13 tons/acre/yr.

General Culture

A. Soils and climate.

Soils: Deep, well-drained alluvial soils are best, but bananas can tolerate a wide variety of soil conditions. Bananas require heavy fertilization for adequate yield - 200-300 lbs N/acre and up to 500-600 lbs K/acre are used.

Climate: The banana is adapted to hot, wet, tropical lowlands. However, in South and East Africa, banana cultivation may extend to 5000 ft above sea level. Mean temperature should be 80 F, and about 4 inches rain/month are required, with dry seasons no longer than 3 months. Frost kills plants to the ground, although the corm usually survives.

B. Propagation. New banana stools are established using corms or pieces of corms called "bits" or "eyes". In the absence of bits, suckers from existing stools may be removed and planted. B. Propagation. New banana stools are established using corms or pieces of corms called "bits" or "eyes". In the absence of bits, suckers from existing stools may be removed and planted.

C. Rootstocks - none

D. Planting design, pruning, training

Design: Spacing between plants varies proportionally to cultivar height at maturity, but generally 400-800 plants/acre are used. Common spacings range from 6x10 to 12x15 ft.

Pruning & training: Stools are allowed to produce only 2-3 pseudostems at a time - one larger, fruiting stem, and another smaller sucker that will produce fruit 6-8 months after the main stem is harvested.

E. Backyard considerations. E. Backyard considerations.

Banana fruits are sensitive to chilling temperatures ( 50 F), and cannot be produced outside the tropics commercially. However, banana plants may be grown in the southeast as ornamentals, provided they are protected from freezing. Fruiting is an extremely rare occurrence, even in northern Florida, unless corms are overwintered properly and get a head start on growth in spring. Dwarf types may be grown in tubs and moved indoors during the winter, provided there is a sunny window. I fruited 'Raja Puri' bananas in Savannah in 1998! ..this is a fast maturing, dwarf type plant with purple mottled leaves. Corms were set in February, killed back in a March freeze, but grew to 6-8 ft and had bunches of fruit by November. Of course, the Fall of 1998 was unusually warm.

Harvest, post-harvest handling

A. Maturity. Fruits can be harvested when about 75% mature, as angles are becoming less prominent and fruits on upper hands are light-green in color. At this stage, desiccated styles on tips of fruit can be easily rubbed off. This occurs at 75-80 days after opening of the first hand. Some managers manipulate the harvest date as per the direction of the buyer, and harvest may be delayed up to 100-110 days after opening of the first hand.

B. Harvest method. Entire spikes are cut from pseudostems by hand with sharp, curved knives. The cutter leaves a portion of bare stalk as a handle for transporting to the packinghouse.

C. Post-harvest handling, packing. Bananas are carried by hand to a packing shed, or in large plantations, hung on tramways and pulled out of plantings by tractors; this expedites the process and limits handling. Bananas should be kept out of light after harvest, since this hastens ripening and softening. For local consumption, hands are often left on stalks and sold to vendors who cut hands/fingers to customer's order. For export, hands are cut into units of 4-16 fingers, graded for both length and width, and carefully placed in poly-lined 40 lb boxes. Prior to packaging, fruits are sometimes floated in water or dilute sodium hypochlorite solution to remove latex which may cause black peel staining. Fruit are shipped by boat when green, and ripened by exposure to ethylene gas (1000 ppm for 24 hr) at their destination, in sealed "banana ripening rooms".

D. Storage. Fruit can be stored for a short time after ripening at temperatures no lower than 55 F, since fruit are susceptible to chilling injury.

Contribution to diet, food uses

Other than fresh consumption, bananas & plantains are used for:

1. Banana puree - baby food, cake, pie, ice cream, doughnuts, etc.
2. Banana/plantain flour - from sun-dried fruits, used for pastries; sometimes mixed with cassava flour.
3. Cooking - plantains are often fried in fat, and eaten like french fries. Mofongo is fried green plantain mixed with pork and seasoned.
4. Dried fruit - are sliced thin and sold as chips, or larger and more moist sections as "banana figs".
5. Fermented bananas -made into beer and wine in Africa.
6. The terminal male bud can be boiled and eaten as a vegetable.
7. New shoots are collected and eaten as greens.

Dietary value, per 100 gram edible portion:

---

Banana (Plantains a bit higher in calories, but similar)

Water (%) ......................................... 74 (low for a fresh fruit)
Calories ............................................ 88
Protein (%) ........................................ 1.5
Fat (%) ............................................... 0.28
Carbohydrates (%) ............................. 22
Crude Fiber (%) ................................... 0.6

Vitamin A ......................................... 9
Thiamin, B1 ...................................... 21
Riboflavin, B2 ..................................... 3.8
Niacin ............................................... 4.4
Vitamic C ........................................ 47
Calcium ............................................ 1.1
Phosphorus ....................................... 3.5
Iron ................................................... 4.5
Sodium .............................................. ---
Potassium ......................................... 9

---

* Percent of recommended daily allowance set by FDA, assuming a 154 lb male adult, 2700 calories per day.

Our supplier partner