Common flax was one of the first crops domesticated by man. Flax is thought to have originated in the Mediterranean region of Europe; the Swiss Lake Dweller People of the Stone Age apparently produced flax utilizing the fiber as well as the seed. Linen cloth made from flax was used to wrap the mummies in the early Egyptian tombs. In the United States, the early colonists grew small fields of flax for home use, and commercial production of fiber flax began in 1753. However, with the invention of the cotton gin in 1793, flax production began to decline. Presently the major fiber flax producing countries are the Soviet Union, Poland, and France.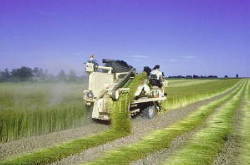 France is the world's major flax producer, growing 64,000 tons annually on 55,500 hectares of land. It is ranked number-one for quality. Second for quality is Belgium, coming in with 15,300 tons of flax grown on 13,300 hectares. Holland is third with 4,600 tons grown on 4,000 hectares. By contrast, China — ranked sixth for quality — grows flax on 100,000 hectares, but produces only 31,000 tons of fiber.
---
Properties
70% is composed of cellulose, it cannot provoke allergies, absorbs humidity and allows the skin to breathe: therefore it is very indicated in the manufacture of summer articles. Very resistant, above all if wetted it can be washed many times without alteration, rather it becomes softer, something very important for articles of clothing and for daily use which require frequent washing such as shirts. Having very low elasticity, linen cloths do not deform themselves.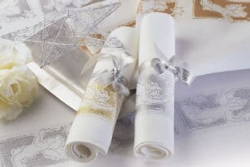 European linen fabrics today are luxurious, elegant, comfortable and practical. Linen is thermo regulating, non-allergenic, antistatic and antibacterial. Because it can absorb up to 20 times its weight in moisture before it feels damp, linen feels cool and dry to the touch. It is not by accident that the world's oldest and most useful fiber is still in great demand.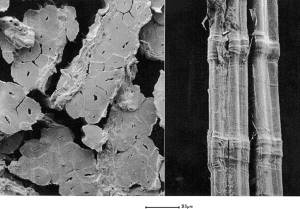 ---
Applications

Table wear
Suiting
Clothing apparel
Surgical thread
Sewing thread
Decorative fabrics
Bed linen
Kitchen towels
High quality papers
Handkerchief linen
Shirting
Upholstery
Draperies
Wall coverings
Artist's canvases
Luggage fabrics
Paneling
Insulation
Filtration
Fabrics for light aviation use
Automotive end uses
Reinforce plastics and composite materials.
Flax could conceivably be mixed with excess grass seed straw or softwood fiber in composite boards

Consumers around the world buy linen because they like the way it looks, feels and performs. With new varieties of flax; new processing techniques; and new ways of spinning, weaving and finishing, the European linen industry has reinvented itself. And all of the links in the supply chain are working together through the European flax and linen organization, Masters of Linen, Paris, to market linen globally to a new and growing trade of niche players.

The flax plant has also a couple of other important end uses

Industrial Uses:
Flax is still produced for its oil rich seed. Linseed oil has been used as a drying agent for paints, varnishes, lacquer, and printing ink. Unfortunately these markets have eroded somewhat over the years with the production of synthetic resins and latex. One bright spot in the market has been the use of linseed oil as an anti-spalling treatment for concrete where freezing and thawing effects have created problems on streets and sidewalks. Occasionally the straw is harvested and used to produce some paper products.

Livestock Feed:
Linseed oil meal is an excellent protein source for livestock containing about 35% crude protein. Flax straw on the other hand, makes a very poor quality forage because of its high cellulose and lignin content.

Human Food:
Recently there has been some interest in seed flax as a health food because of its high amount of polyunsaturated fatty acids in the oil

How to treat articles in linen

White articles should be washed in the washing machine at 60° C, whilst colored ones at a lesser temperature. White articles should be ironed damp with a very hot iron, even steam, first on the inside, then on the right side. Colored articles, above all if dark, should be ironed only on the inside. Starching is not needed as with ironing linen returns to being stiff. If you hang the articles folded in a suitcase over a bath of hot water, they will return to their original state: the steam will help to soften the folds.

Linen clothing wrinkles easily - therefore the trade speaks about "Edelknitter" = noble wrinkle

Grades

Processability

Flax plants are pulled from the ground rather than cut, in order to obtain the full length of the fibers, and to prevent fiber discoloration. At one time, this work was done all by hand. Today pulling machines are used. The equipment is often owned by cooperatives and loaned to each farmer.

The plants are first de-seeded. Next comes retting — separating the straw or bark from the fiber. There are two main methods of retting — dew and water. Dew retting, the process mostly used in Western Europe, is done by spreading the flax in the field. The actions of dew, rain and sun, along with soil-borne bacteria, help to loosen and dissolve the outer bark. After retting, the farmers roll and store the flax

Flax also can be water-retted. This process involves submerging the flax in water for between six and 20 days, allowing bacterial action to cause the bark to be loosened. Today, many farmers consider this process too expensive. Egypt is one country where flax is water-retted — in the Nile River.

Scutching is the next step to be done. This process extracts the flax fibers from the retted straw. Special machines move the flax on long tables to remove impurities. Other equipment is used to further thresh the flax and extract the fibers. During the scutching process the flax is divided into fine fibers called line, shorter fibers are called tow and shives. Shives are the woody part of the plant. Line is further processed by hackling to form sliver. Line sliver is weighed, manually sorted and packed in bales or rollers weighing 100 kilograms. Line can be wet- or dry-spun.

Tow can be dry-spun on the cotton system or spun on the worsted system. It is also used for non-wovens, including paper, and for technical products such as insulation. Shives are packed and shipped for a variety of industrial products.

The linen fibres are mixed with cotton, wool, silk, viscose, and polyester and this mixed thread allows one to obtain many types of cloth. The combination of two fibres allows one to obtain a different "hand", i.e. a consistency and aspect different from those obtained with simple threads.

Handmade textiles deriving from the production zones of France, Belgium, Germany, Austria and Holland are the best - they claim the quality mark MASTERS OF LINEN. Linen is also cultivated in Eastern Europe, Russia, Brazil, China and the Baltic countries, but its quality is not comparable to that of Western Europe.

Flax spinning technology

| | |
| --- | --- |
| Import flax material | Hackling machine process |
| Spreader process - Drawing | Sliver process |
| Fly frame process | Boiling-out process |
| Spinning frame process | Finished Carton packing |

Background information

History of flax

About 3,000 B.C.
Flax is cultivated in Babylon.
Burial chambers depict flax cultivation and clothing from flax fibres.
About 650 B.C.
Hippocrates writes about using flax for the relief of abdominal pains.
In the same era, Theophrastus recommends the use of flax mucilage as a cough remedy.
About 1st Century A.D.
Tacitus praises the virtues of flax.
About 8th Century A.D.
Charlemagne considered flax so important for the health of his subjects that he passed laws and regulations requiring its consumption.
About 15th Century A.D.
Hildegard von Bingen used flax meal in hot compresses for the treatment of both external and internal ailments

Winter Flax

Recently in France a new variety of winter flax was developed. It can be sown in September and harvested in June. The advantages of winter flax are many. Retting conditions are better in June than in July, when spring crops are ready. Generally, growing fields are idle in winter, so flax cultivation helps to prevent soil erosion. Also, being able to pull flax a month earlier extends the use of the pulling machines.

This new winter flax called Adélie can grow in temperatures as cold as -10°C, so it can be planted in Germany and Eastern Europe, where winters are harsh. It is expected to be available commercially in about two years.

Our supplier partner