---
Properties
Cotton, as a natural cellulose fiber, has a lot of characteristics, such as:
Comfortable Soft hand
Good absorbency
Color retention
Prints well
Machine-washable
Dry-cleanable
Good strength
Drapes well
Easy to handle and sew
Ratings of Fiber Properties
Fiber properties according to Cotton Inc.
Length & Uniformity
Upper Half Mean Length
Below 0.99
Short
0.99-1.10
Medium
1.11-1.26
Long
Above 1.26
Extra Long




Uniformity Index
Below 77
Very Low
77-79
Low
80-82
Low
83-85
High
Above 85
Very High




Fiber Fineness
Fineness (millitex)
Description
Below 135
Very Fine
135-175
Fine
175-200
Average
200-230
Coarse
Above 230
Very Coarse




Fiber Strength
20 and Below
Very Weak
21-25
Weak
26-29
Base
30-32
Strong
32 and above
Very Strong

Fiber Elongation (%)
Below 5.0
Very Low
5.0-5.8
Low
5.9-6.7
Average
6.8-7.6
High
Above 7.6
Very High




Fiber Maturity
Maturity Ration
Description
Below 0.7
Uncommon
0.7-0.8
Immature
0.8-1.0
Mature
Above 1.0
Very Mature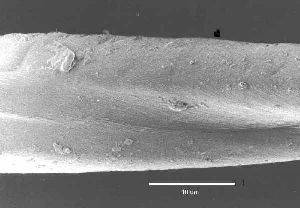 Specific gravity
1.54
Strength (Tenacity)
3.0 - 4.9 g/d
(cotton is 20% stronger when wet)
fiber elongation is almost linear to
the stress imposed
Elasticity
Relatively low
Absorbency and Moisture Regain
7-8% at standard conditions
Birefringence
0.046
Dielectric constant
3.9-7.5
Resistivity
Order of 109 ohm/cm3
Micronaire
2.0 - 6.5 (upland cotton)
Denier
0.7 - 2.3 (upland cotton)
Length
0.9 - 1.2 in (upland cotton)
Diameter
9.77 - 27.26
Coefficient of friction
0.25 (for raw dry cotton, otherwise strongly changes for treated and/or wet fiber)
Thermal Properties
Decomposes when exposed at the temperatures about 300oF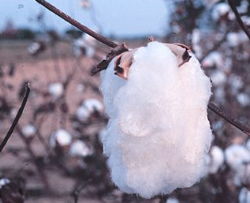 FIBER LENGTH
Fiber length is described as "the average length of the longer one-half of the fibers (upper half mean length)" This measure is taken by scanning a "beard " of parallel fibers through a sensing region. The beard is formed from the fibers taken from the sample, clasped in a holding clamp and combed to align the fibers.
LENGTH UNIFORMITY
Length uniformity or uniformity ratio is determined as " a ratio between the mean length and the upper half mean length of the fibers and is expressed as a percentage".
FIBER STRENGTH
Fiber strength is measured in grams per denier (g/d) or centi-newton per tex cN/tex. It is determined as the force necessary to break the beard of fibers, clamped in two sets of jaws, (1/8 inch apart). The breaking strength of cotton is about 3.0~4.9 g/denier, and the breaking elongation is about 8~10%.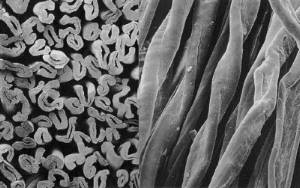 MICRONAIRE
Micronaire measurements reflect fiber fineness and maturity. A constant mass (2.34 grams) of cotton fibers is compressed into a space of known volume and air permeability measurements of this compressed sample are taken. These, when converted to appropriate number, denote micronaire values.
COLOR
The color of cotton samples is determined from two parameters: degree of reflectance (Rd) and yellowness (+b). Degree of reflectance shows the brightness of the sample and yellowness depicts the degree of cotton pigmentation. The color of the fibers is affected by climatic conditions, impact of insects and fungi, type of soil, storage conditions etc. There are five recognized groups of color: white, gray, spotted, tinged, and yellow stained. As the color of cotton deteriorates, the processability of the fibers decreases.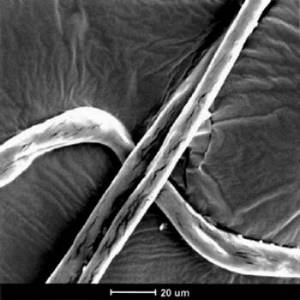 TRASH
A trash measurement describes the amount of non-lint materials (such as parts of cotton plant) in the fiber. Trash content is assessed from scanning the cotton sample surface with a video-camera and calculating the percentage of the surface area occupied by trash particles. The values of trash content should be within the range from 0 to 1.6%. Trash content is highly correlated to leaf grade of the sample.
LEAF GRADE
Leaf grade is provided visually as the amount of cotton plant particles within the sample. There are seven leaf grades (#1-#7) and one below grade (#8).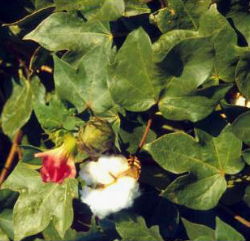 PREPARATION
Preparation is the classer's interpretation of fiber processability in terms of degree of roughness or smoothness of ginned cotton.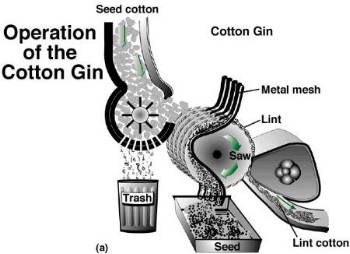 EXTRANEOUS MATTER
Extraneous matter is all the material in the sample other than fiber and leaf. The degree of extraneous matter is determined by the classer either as "light " or "heavy".
NEPS
A nep is a small tangled fiber knot often caused by processing. Neps can be measured by a nep tester and reported as the total number of neps per 0.5 grams of the fiber and average size in millimeters. Nep formation reflects the mechanical processing stage, especially from the point of view of the quality and condition of the machinery used.
CHEMICAL PROPERTIES OF COTTON
Cotton swells in a high humidity environment, in water and in concentrated solutions of certain acids, salts and bases. The swelling effect is usually attributed to the sorption of highly hydrated ions. The moisture regain for cotton is about 7.1~8.5% and the moisture absorption is 7~8%.
Cotton is attacked by hot dilute or cold concentrated acid solutions. Acid hydrolysis of cellulose produces hydro-celluloses. It is not affected by cold weak acids. The fibers show excellent resistance to alkalis. There are a few other solvents that will dissolve cotton completely. One of them is a copper complex of cupramonium hydroxide and cupriethylene diamine
Cotton degradation is usually attributed to oxidation, hydrolysis or both. Oxidation of cellulose can lead to two types of so-called oxy-cellulose, depending on the environment, in which the oxidation takes place. Cotton can also degrade by exposure to visible and ultraviolet light, especially in the presence of high temperatures around 250~397° C and humidity. Cotton fibers are extremely susceptible to any biological degradation (microorganisms, fungi etc.) 
OPTICAL PROPERTIES OF COTTON
Cotton fibers show double refraction when observed in polarized light. Even though various effects can be observed, second order yellow and second order blue are characteristic colors of cellulose fibers.
---
The major end-uses of cotton include:
Apparel - in a wide range of wearing apparel: blouses, shirts, dresses, children wear, active wear, separates, swimwear, suits, jackets, skirts, pants, sweaters, hosiery, neckwear.
Home Fashion - curtains, draperies, bedspreads, comforters, throws, sheets, towels, table cloths, table mats, napkins
Medical and cosmetic applications - bandages, wound plasters
Technical applications -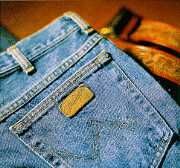 White cotton articles should be washed in the washing machine at 60° C, whilst colored cloths, especially if dark, should be washed at lower temperatures. Normally it should be ironed on the right side. Dark articles should be first ironed on the inside and then on the outside, with a cloth, to avoid that the heat of the iron shine the cloth. White articles can be starched to give more consistency to the cloth and avoid it creasing easily.
Grading of cotton quality takes into account:

length

uniformity

diameter

strength

maturity

color

amount of foreign matte

American Upland
50% world crops major type grown in SE US – white , 13/16 - 1 1/4 inch (2.1 - 3.2 cm) length, diameter = 18 my

American Pima
longer than Upland 1 3/8 - 15/8 in (3.5 - 4.1 cm) - more costly grown mostly in SC, NM, and AZ

Egyptian
1 ½ - 1 ¾ in. (3.8 - 4.4 cm), yellow brown in color

Sea Island - SC, GA coast
longest of all cotton fibers 13/8 - 21/2 in. (3.5 - 6.4 cm), most expensive, yellow in color
Each cotton fiber is composed of concentric layers. The cuticle layer on the fiber itself is separable from the fiber and consists of wax and pectin materials. The primary wall, the most peripheral layer of the fiber, is composed of cellulose crystalline fibrils. The secondary wall of the fiber consists of three distinct layers. All three layers of the secondary wall include closely packed parallel fibrils with spiral winding of 25-35° and represent the majority of cellulose within the fiber. The innermost part of cotton fiber- the lumen- is composed of the remains of the cell contents. Before boll opening, the lumen is filled with liquid containing the cell nucleus and protoplasm. The twists and convolutions of the dried fiber are due to the removal of this liquid. The cross section of the fiber is bean-shaped, swelling almost round when moisture absorption takes place.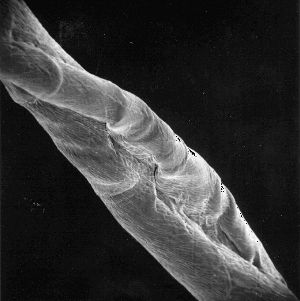 The overall contents are broken down into the following components.
80-90% cellulose
6-8% water
0.5 - 1% waxes and fats
0 - 1.5% proteins
4 - 6% hemicellulose and pectins
1 - 1.8% ash
During scouring (treatment of the fiber with caustic soda), natural waxes and fats in the fiber are saponified and pectins and other non-cellulosic materials are released, so that the impurities can be removed by just rinsing away. After scouring, a bleaching solution (consisting of a stabilized oxidizing agent) interacts with the fiber and the natural color is removed. Bleaching takes place at elevated temperature for a fixed period of time. Mercerization is another process of improving sorption properties of cotton. Cotton fiber is immersed into 18- 25% solution of sodium hydroxide often under tension. The fiber obtains better luster and sorption during mercerization.
After scouring and bleaching, the fiber is 99% cellulose. Cellulose is a polymer consisting of anhydroglucose units connected with 1,4 oxygen bridges in the beta position. The hydroxyl groups on the cellulose units enable hydrogen bonding between two adjacent polymer chains.
FIBER PROCESSING
About 30% of world cotton production is harvested by machines. Australia, Israel and USA are the only countries where all cottons are picked by machines. Fifteen percent of world cotton production is ginned on roller gins and almost all rest of cotton is saw ginned in most countries.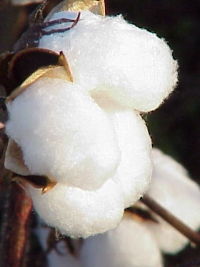 Historic info on cotton:
The earliest evidence of using cotton as a textile fiber is from India and the date assigned to this fabric is 3000 B.C. There were also excavations of cotton fabrics of comparable age in Southern America. Cotton cultivation first spread from India to Egypt, China and the South Pacific. Even though cotton fiber had been known already in Southern America, the large scale cotton cultivation in Northern America began in the 16th century with the arrival of colonists to southern parts of today's United States.
The largest rise in cotton production is connected with the invention of the saw-tooth cotton gin by Eli Whitney in 1793. With this new technology, it was possible to produce more cotton fiber, which resulted in big changes in the spinning and weaving industry, especially in England. Today, cotton is grown in more than 80 countries worldwide.
different supplier partners