Polyethylene monofilament yarns and fibers
from Swicofil


Polyethylene
Introduction
Polyethylene is the most popular plastic in the world. It has a very simple structure, the simplest of all commercial polymers. A molecule of polyethylene is a long chain of carbon atoms, with two hydrogen atoms attached to each carbon atom.

Sometimes it is a little more complicated. Sometimes some of the carbons, instead of having hydrogen attached to them, will have long chains of polyethylene attached to them. This is called branched, or low-density polyethylene, or LDPE. When there is no branching, it is called linear polyethylene, or HDPE. linear polyethylene is much stringer than branched polyethylene, but branched polyethylene is cheaper and easier to make.
As a result of branching, side groups become attached to the main chain. Branching leads to a decrease in crystallinity, lowered density, and impaired stiffness. Branched, low-density polyethylene has good toughness and pliability. It has outstanding electrical properties, it is resistant to acids and bases, and has high tear strength. Branched polyethylene is used for films, drapes, table cloths, squeeze bottles, and coatings for foil.
Linear, high-density polyethylene has high crystallinity and high melting temperature. Linear polyethylene has a greater hardness and tensile strength than branched polyethylene. It is used in bottles, house wares, toys, pipes, and wire and cable insulation.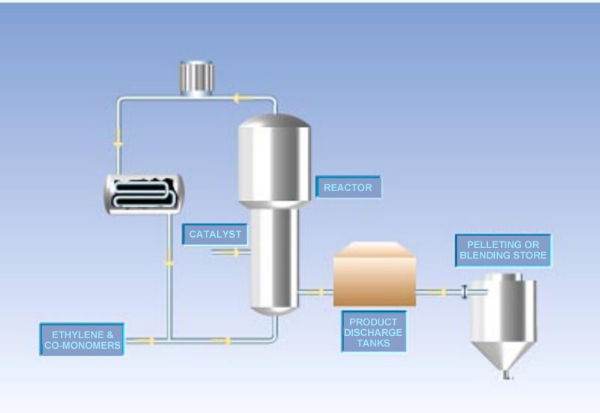 ---
Properties
HDPE

GRET

Specific gravity

0,960

0,930

g/cm2
Factor to calculate tex value

754 x d2

730 x d2

-
Range of temperatures

-30 to + 95

-30 to + 95

°C
Melting point

130

130

° C
Tensile strength
max.poss.: 0,16 – 0,25 mm
0,26 – 0,40 mm

50 or specified
60
55

65 or specified
75
70

cN/tex
Elongation at break
minimum possible
maximum possible

25 or specified
15
100

25 or specified
15
100

%
Shrinkage at 100 °C
minimum possible
maximum possible

5 or specified
2
15

5 or specified
2
15

%
Selfextinguishing (SE)
according to UL 94-V2
Our monofilaments can be supplied as self- extinguishing monofilaments. However, this effects the standard colour and excludes the possibility of UV-resistance
Physical Properties of Polypropylene

| | |
| --- | --- |
| Moisture regain | |
| Refractive indexNnD23 | |
| Thermal conductivity | |
| Coefficient of linear thermal expansion | |
| Heat of fusion | |
| Specific heat | |
| Density of melt at 180oC | |
| Heat of combustion | |
| Oxygen index | |
| Decomposition temperature range | |
| Dielectric constant (0.1 M Hz) | |
| Dissipation factor (0.1 M Hz) | |
| Specific volume resistivity | |
---
Applications

Nets and fabrics for agricultural end uses, for geotextiles
Any kind of sun breakers, sun blinds, shade nets, wind walls,
open packaging, safety nets
Swimming pool covers
Ropes, strings
fishing net
reinforcements in various coated products such as plastic, paper etc

Weaving into fabrics for agro- and geotextiles, filters, shade nets, industrial textiles, swimming pool covers and furnishing fabrics

Rachel knitting into protection nets, windwalls, open packaging, safety nets, marking materials etc.

Reinforcements of various coated products such as plastic, paper etc.

Braiding into ropes, fishing net strings, electric fences, rubber band covering etc

Grades

flat yarn
textured yarn
high tenacity
fibers
tow
spun yarns

Processability

Background information

Our supplier partner